How Education Can Save The World
By Muhammed Abdullahi Tosin @Oxygenmat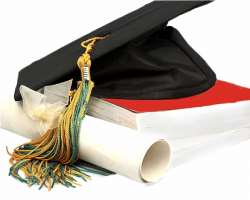 I'm just wondering, why some people would think education isn't vital. And here, I mean, real enlightenment and application of knowledge, not just some letters and words memorized without comprehension.
Okay, let's see some magic education can do the world and its people.
Disturbing social, environmental and economic challenges have today placed the global community on the brink of total collapse. These range from unemployment and poverty to global warming, insecurity, terrorism, corruption and human rights abuses. Unless ignorance which is at the root of the problems is first addressed through proactive, sustainable education, these problems would only escalate and not abate.
For instance, the U.S. owns 13 of the 20 best universities in the world, according to QS World University Rankings and, in 2009, has 10% of her population in the university system. By contrast, Nigeria has just 0.35% of her population in the university system in 2009. Hence, the U.S. has minimal share of the identified global problems while Nigeria has a huge share.
Education has the potency to address the world's problems and engender positive changes as in many folds.
First, reduces unemployment and poverty. Aptly described as a behavioural disease by the World Health Organization, poverty is the greatest social burden in the world today. Lying at the root of poverty is endemic ignorance.
Education empowers individuals to be employable, and more poised to be job creators rather than job seekers. Hence, they earn more, employ others and enhance better livelihoods for subsequent generations. Education facilitates mechanized agriculture to enhance the availability and affordability of food crops, cotton and timber. These in turn abate hunger and boost clothing and shelter.
Second, education improves the security situation. Ignorance makes people susceptible to criminal activities. Lamenting this problem, Omojuwa said, "Nigeria has some 10.5 million children out of school today, where do you think tomorrow's terrorists are today?" Education engenders reduction in crime wave as it enlightens and engages the youth who would otherwise be gullible and used to brew violence.
Also, education checks corruption and electoral frauds. It is prevalent for uneducated persons to sell their votes for packs of noodles. Quality education (which includes religious teachings and acceptable social norms) instills ethics and discipline in individuals, making them able to shun bribes, resist corrupt practices and lead upright lives.
Further, education abates global warming and environmental hazards. Due to ignorance and poverty, rural inhabitants still commonly cook with firewood (which involves tree felling and burning), use oil lamps and burn refuses. With better education, poverty abates as earlier discussed, and people can afford energy-saving cooking methods, learn to preserve the forest, culture vegetations, use light-saving bulbs and recycle waste products.
Finally, education reduces human rights abuses. Often, human rights abuses go unreported or un-remedied due to victims' ignorance. Quality education is therefore critical to the realization of national and global human rights ideals.
Education is vital to a nation's development. I recommend strongly, like Malala told the UN Youth Assembly, "Let us pick up our books and our pens. They are our most powerful weapons. One teacher, one book, one pen, can change the world."
*Muhammed Abdullahi Tosin is a writing coach and the author of Your Right To Write and Vertical Writing. Find him on Twitter @Oxygenmat.
Disclaimer:

"The views/contents expressed in this article are the sole responsibility of the author(s) and do not necessarily reflect those of The Nigerian Voice. The Nigerian Voice will not be responsible or liable for any inaccurate or incorrect statements contained in this article."
Articles by Muhammed Abdullahi Tosin