Lancelot Imasuen To Receive Oba Of Benin's Excellence Award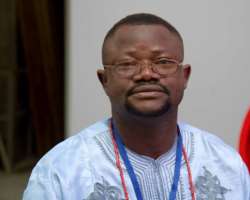 The Oba of Benin Kingdom, Omo N'Oba Erediauwa 1, will on Saturday, December 28, 2013 honour veteran filmmaker, Lancelot Oduwa Imasuen with an award of excellence. The director of 'Adesuwa' was named as one of the recipients of the 2013 Oba Erediauwa Excellence Awards for his impact and achievements in Nollywood.
As gathered, the event will hold in Benin City at the Oba's palace. The award presentation will take place during the Benin Ugie Carnival, which is celebrated every December.
In a related development, a new flick by Lancelot, 'Invasion 1897' has been endorsed by the Edo State government and the Benin monarch. The movie chronicles the invasion of Benin Kingdom by some Europeans in 1897, which forced the exile of late Benin monarch, Omo N'Oba Ovonramwen Nogbaisi in 1897 to Calabar, Cross Rivers State and his death on Wednesday, January 14, 1914.