Lady Gaga Copied My Style--Segun Odegbami's Daughter, May7ven Spits Fire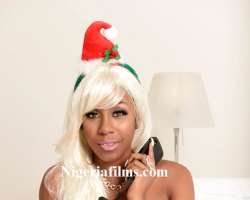 MAY7, Singer. Songwriter. Dancer. Producer. Entrepreneur
Yemisi May Odegbami, best known as May7ven, has been described by many as the Queen of UK Afrobeats. The Nigerian-born singer, songwriter, dancer, producer, and entrepreneur debuted in 2008 in the UK with her single 'Hands Up'. Chizy's Spyware caught up with her.
Q: It is already the end of the year; give us a summary of what you have been working on?
A: What have I not been working on recently? I have been doing a lot of collaborations lately against my better judgement or wishes, but I had to listen to my team when they said 'you do not really mingle and you have not really collaborated with many artist' so, if a song sounds good enough, then I will do it.
I did a collaboration with Chingy and 2face called 'fallen'. 2face is one of the biggest in the African music industry and I love him to bits, so to get a song with him is phenomenal. I also did a collaboration with Alexander Burke, and another one with Mr 2kay. My new single should be out in a few weeks.
Q: How was it working with Alexander Burke on 'Ooh La La (Remix)'?
A: She contacted my management team in November 2012 with the intention of working with me, D'banj or Wizkid. She was a fan of the
music and wanted to get in the afro beats circle. Admittedly, I think she has got one of the most amazing voices, but I was never a fan of the music she put out, so I chose not to work on the project. I was also aware that these other guys (D'banj and Wizkid) also refused to work on the project for their own reasons. Her team were persistent, so I thought "what harm is there anyway", as long as I can make the song credible irrespective of what the song is like. I eventually worked on the song and she loved it. In a nutshell, it was a cool and interesting project to work on.
Q: Are there plans shoot a video for 'Ooh La La (Remix) '?
A: There is a contractual agreement in place, so there will be a video.
Q: What upcoming projects do you have planned? Do you have any tours scheduled?
A: I intend to put out a few singles, after which there would be a tour in the second quarter of 2014
Q: Are there any international artist you will like to collaborate with, and why?
A: Usher, simply. If I can get Joe, fine, but Usher is the ultimate because when he dances, I want to challenge him. Yes, I want to dance with him. Musically, he is probably the most consistent, persistent and credible artist in the music industry. I have a lot of respect for him.
Q: What should we expect from you in 2014?
A: 2014 should be renamed 'year 20 & May7ven'. It is going to be worse next year for people who do not like me because we will be putting out a lot of songs, new videos, and my album will also be out in 2014. My style will develop even more; it will blossom more than what you already think is crazy. So, be warned, you have not seen anything yet.
Q: Do you think there is a space for Afro beats UK artists in the African (Nigerian) music industry?
A: There is, but it is tough. I am not sure which one of us is going for that challenge because it seems no one has really thought about it, we tend to just put music out. My target is the UK and the international arena, so I am not concerned with Nigerian or Afro beats UK alone. I do not believe there should be a separation between Afro beats UK and Afro beats Nigeria.
Q: How do you ensure your fans remain satisfied and excited about your work?
A: That is challenging for artists at any level, even Lady Gaga has to do some work. For me, it is about developing more to exceed their expectations, giving more in performances, in music that I produce, and in videos that I shoot.
Q: You mentioned Lady Gaga, this leads to my next question. People tend to compare you to Lady Gaga and Nicki Minaj. Would you say they inspired your style?
A: I do not intend to be boastful, but my style has been out before they were; Lady gaga has only been around since 2010, while I have been around since 2006. My hair turned white a few years before Nicki Minaj or Lady Gaga's hair turned white. If anything, I am influenced by the Grace Jones and Lil Kim of this world.
Q: For fans who are inspired by your style, which designer would you like to introduce them to?
A: It's very hard for people to get the kind of clothes I wear because I mix and match items from a number of designers, and I tend to pick items from brands that are not well known so people do not easily copy. I am usually styled by different designers including Roooi, Silvia and Mama Sam. I like Louis Vuitton a lot, but I tend to go for the discrete ones which do not have their logo all over them; Alexander McQueen is another one of my favourite designers. I like bespoke products, which are not readily available to the public; everything I wear on stage is made, I never buy off the shelf.
Q: Do you keep in touch with your African roots (Nigeria)?
A: Yes I do. My father lives there. I cannot get away from it because I was born in Nigeria, and I still eat African food. I am very cultured and still believe in the old traditional values.
Q: What is the experience like when you go back to Nigeria?
A: If I am being truthful, I lock myself up in a hotel when I am in Nigeria on a business trip.
Q: Are you involved in any charity work?
A: Yes, I am involved in a lot of charity work. We have a school in Nigeria, a sports and entertainment academy for kids (11-16 yrs old). The academy was built by my father in 2009, and my sister and I look after the entertainment side of things. We educate the kids and sharpen them up to develop in the areas of sports and entertainment.
My sister and I also set up a UK charity, which aims to look after disadvantaged kids.
Q: Your last word for all the African Women out there trying to make an impact in their various industries?
A: Believe in yourself and make sure you are the best at what you do. If you want to be a doctor, a dancer, an artist, whatever it is, just be the best at it. Do not get distracted; invest in yourself and never give up.
Q: Apart from your white wig, what other item can't you do without?
A: My phone; because I need to talk to everybody, including my team and my family.
Q: What are the 5 most important items in your hand bag?
A: I never leave my house without my make-up kit in my bag, my dairy, my wallet, cash point cards and glasses. Everything else is junk.
Q: What's the most expensive item of clothing you have ever bought?
A: It was a jacket that was previously owned by Michael Jackson. By the way I am Michael Jackson's biggest fan.
Q: What's the craziest thing a fan has ever done for or to you?
A: A fan had been trying for a few years to get my phone number; he eventually tricked his way into getting it through family and friends. That was so crazy. I also get the occasional marriage proposal.
Q: What is the one accessory that makes you feel sexy?
A: My underwear. There are certain types of underwear which regardless of what I'm wearing on top, once I know I have got this thing underneath, I feel really sexy.
Q: When was the last time you used public transport?
A: This week actually, I used the train to rehearsals. Before now, I was very spoilt. For 15 years I never took public transport because I have always had a car. I had a car accident 2 months ago, hence I had to get rid of my car. I started taking cabs everywhere. There was one incident where I was in a cab for so long trying to get somewhere that was not very far, the cab driver said "why be in the cab, why not just jump on the train?" I got on the train and arrived at my destination in 10 minutes. So now, anytime I need to go somewhere and I don't want to be late, I just jump on the train.
Q: What is the beauty project you cannot do without?
A: My mac powder.
Q: What is your favourite perfume?
A: Tomford and Red by Dolce & Gabbana
@Chizy's Spyware