Okonjo-Iweala, Otunla Brief Reps Committee Today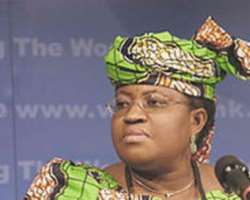 Finance Minister Mrs. Ngozi Okonjo-Iweala and the Accountant General of the Federation (AGF) Jonah Ogunniyi Otunla are to appear before the House of Representatives committee on finance today on the state of the country's economy.
Chairman of the committee Abdulmuninu Jibrin (APC, Kano) said the appearance of the two government officials has to do with emerging issues regarding allegations of financial infractions.
Rep Jibrin said the committee yesterday received a letter from the AGF, notifying the committee of his inability to appear yesterday due as the finance minister Okonjo-Iweala had directed all departments and agencies under her ministry to accompany her today.
He said the committee had wanted to take on the AGF alone yesterday but that it has accepted the request of the AGF to appear together with the minister today.
'We as a committee know that the AGF operates under the minister,' Jibrin noted after reading the letter, stressing that: 'we wanted him to come exclusively and separately.'
'We will start by talking to the AGF. We want him to give us breakdown of what was needed by the country in 2011, 2012 and 2013.
'We will also engage the minister of finance tomorrow (today) on the allegations made by the Central Bank of Nigeria (CBN) governor on 'missing' crude oil revenue, 'missing' Sovereign Wealth Fund (SWF), external borrowings, 'missing' SURE-P funds and others,' Jibrin explained.