JOS KILLING: PDP CHIEFTAIN CALLS FOR STIFFER PENALTY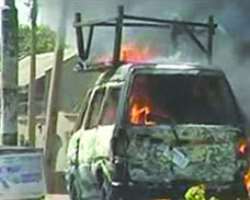 Jos killing: PDP chieftain calls for stiffer penalty
From AKEEB ALARAPE, Osogbo
Tuesday, March 9, 2010
A chieftain of the Peoples Democratic Party (PDP) in Osun State, Akinrogun Tunde Odanye, has called for stiffer penalty for perpetrators of Jos killings. No fewer than 500 villagers were reportedly murdered in their sleep on Sunday in three villages in Jos South Local Government Area in what could be described as renewed hostilities in the crisis-ridden Plateau State.
Reacting to the massacre in Osogbo, yesterday, while speaking with newsmen, Odanye, who is also a governorship hopeful in the state, described the incident as a testimony of the leadership crisis rocking the country.
'What is happening in Nigeria today is that because the centre is no longer holding, every other thing is falling apart. There is no cohesion at the centre again. The truth is that we, Nigerians, with due respect, are shameless. As a minister, if you are no longer in agreement with a government you resign your position.
'But here, you don't agree but you still want to be 'chopping' the proceeds of that seat. Somebody left PDP to go and run for governorship election on the platform of PPA. She lost and went back to the National Assembly to take her seat as a PDP member and there was applause.
'Let's stop deceiving ourselves. Things are not the way they should be. The centre can no longer hold and like they say the fish got rotten from the head,' he stated.
He blamed the power cabal in the country for all the crises, saying some few individuals were holding the country hostage against the wishes of the majority.
'People are being killed every day because the centre is in a state of flux. If I was the president, I would not only dissolve that council, I will order their arrest based on what they did. But the truth is that we don't value our lives here. Anything can happen here and you will have some 'idiots' backing such action,' he stated.