Ibinabo Fiberesima, Fred Amata Back Together And Better?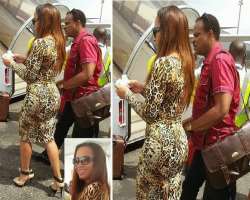 At the Nollywood Grand Awards night which held recently in Lagos, there was a surprise sprung up by the AGN president, Ibinaboh Fiberesima and her ex beau, Fred Amata, they completely ignored each other and so many guests noticed.
Though some people have said they are presently not talking to each other, the duo, however, was recently spotted at the local airport on their way to Port Harcourt for an award ceremony which took place in Bayelsa. These two look so hot together.
It has to be noted that Ibinabo and Fred have a very cute daughter and some months back, there were reports of their affinity. Are they back together as one or are they just letting go of been enemies and be cool friends?
These questions need answers urgently. We hope someone would respond!