Jonathan urged to compel corrupt ministers to resign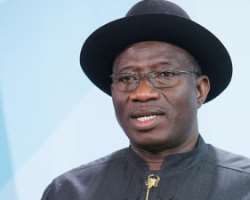 A former Commissioner of Agriculture in the late Prof. Ambrose Alli government in the Second Republic, Mr. Eddy Osifo has called on the government to transform the beliefs and attitudes of the people as a first step towards eliminating corruption in the country.
He said the government has the power to change the attitude of Nigerians towards ill-gotten wealth, corruption and corrupt practices, saying that this was what the short lived regime of late General Murtala Muhammed wanted to achieve.
Osifo , who in a speech at the 2013 Obafemi Awolowo University Alumni Association Annual Dinner held weekend in Benin said that President Goodluck Jonathan should convey a meeting of the Federal Executive Council to discuss the problem of corruption in the country and compel Ministers who would not renounce corruption and corrupt practices to resign from office.
He also want the ruling Peoples Democratic Party (PDP) to renounced corruption in its entirety , adding that once this was done, it would become a party policy as it was with the Communist Party in China and Russia.
The former defunct Unity Party of Nigeria (UPN) stalwart said that the issue of corruption in the country should be made an election issue in the 2015 general elections in the country, adding that, 'any party that refuses or neglects to do so must be rejected at the polls'.
'It is not enough to declare war on corruption in television screen, or pages of newspapers. We must take positive to renounce it'
'What we have observed since the establishment of anti-corruption agencies is that many high profile corruption cases are not prosecuted to its logical end and authorities seem to beam the search light more, and at times, on their intra-party and inter-party opponents. This makes nonsense of the whole institution on which huge public money is being spent', he said.
He called on the government to be hasher, draconic, sterner, more resilience and persistent in the prosecution of offences of corruption than they were doing now, saying that, 'their general attitude towards corruption cases would appear to be that of aiding, abetting and encouraging it'