2015: Anenih's Kinsmen Threaten To Abandon Jonathan Over Marginalisation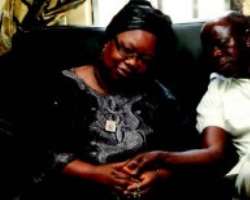 Ahead of the 2015 general elections, stakeholders in the Edo Central Senatorial District have threatened to rise against the administration of President Goodluck Jonathan for what they described as his failure to meet the aspiration of their people.
They claimed that even the Chairman of the Board of Trustees (BOT) of the ruling Peoples Democratic Party (PDP), Chief Tony Anenih, 'has not proved useful to the people despite being a native of the area.'
Rising from a meeting at the weekend in Ekpoma, Edo State, the stakeholders, comprising political and traditional rulers, as well as academics decried what they described as many years of neglect and non-citing of federal and state projects in the Central Senatorial District.
The stakeholders, who accused the state government of marginalising them due to their political leanings, also said that Chief Anenih had not done enough in using his position to attract development to the senatorial district.
Speaking under the aegis of Okpebhor Peoples' Association (OPA), mainly drawn from Esan West, Esan Central and Igueben Federal Constituency in the Senatorial District, they said no son or daughter from the senatorial district is occupying a key political position at the state and federal levels.
Consequently, they vowed to explore every available option to ensure that the region is not cheated in citing federal and state projects.
Convener of the association's meeting, Hon Zuberious Emmanuel Edeoghon, said the senatorial district needs industries to absorb its vibrant youths, as well as the provision of other relevant infrastructure.
Edeoghon said: 'We need industries, as well as mechanised system of agriculture, which to my mind, will help greatly to absorb the teaming graduates from the various tertiary institutions we have here. This, no doubt, will go a long way to arrest youth restiveness and reduce crimes in our society.
'We are calling on the government to repair all the damage roads caused by erosion in Ekpoma, Irrua, Ewu and in other parts. We need developmental projects at Ambrose Alli University (AAU), Ekpoma and College of Education in Igueben.'