Obiano Mourns Mandela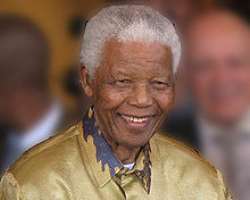 The Governor-elect of Anambra State, Chief Willie Obiano has expressed his deepest regrets over the death of the first President of post–Apartheid South Africa and renowned icon of the free world, Nelson Rolihlahla Mandela, who passed away on Thursday night.

The passage of Mandela, anti-Apartheid fighter and symbol of modern South Africa has attracted tributes from world leaders and lovers of a just and equitable world who are unanimous in their view that the demise of one of the greatest global statesmen has left the world a poorer place.
Lending his voice to the growing tributes, Chief Obiano observed that Mandela's passage brings closure to an era of endless struggles for the reclamation of the dignity of the black race and the push for a more racially tolerant world.
"Nelson Mandela was one of the greatest members of the human community to ever walk the planet. His entire life was ruled by one singular passion – to make the world a better place for the oppressor and the oppressed. With his passage, the world has lost its most enduring moral fibre," Chief Obiano declared.
According to him, the late anti-Apartheid icon led a life of meaning and service to humanity. "Nelson Mandela is the most profound example of what a leader should be. He devoted his entire life to a cause and even after making impossible sacrifices to achieve victory over the people who wasted 27 years of his life; Mandela was humane embrace his erstwhile persecutors and bold enough to acknowledge the fact that there can be no future without forgiveness. He was infinitely outstanding and definitely ahead of his time," Chief Obiano further observed.
Chief Obiano also opined that Africa's many challenges would be a thing of the past if Africa's leaders were to imbibe the ethos and creeds that shaped Mandela's life on earth pointing out that with him, young Africans do not have to look too far for a role model. "They only need to read Mandela's biography and their history books to see what great heritage we all have in Nelson Mandela."
"My thoughts and deepest condolences are with the Nelson Mandela family and the government and people of South Africa in this great moment of loss. While it may be hard to accept that Madiba is no longer here with us, we shall all take solace in the fact that his life will continue to illuminate our paths for all times and for all seasons," the Governor-elect of Anambra State maintained.