"Being Plus-Sized Brings Me Joy" –actress Adaora Ukoh declares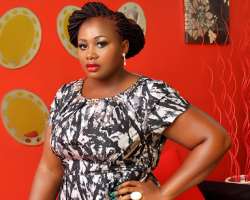 Whatever your opinion on fat persons, it is also true that many who diet and believe they are fat are actually perfectly healthy and even beautiful. Experts have found that for each of us there is a broad range of weights at which we can be happy, fit and well, and that for the vast majority, this does not mean having to be a size 10. Eating well, exercising and finding a weight at which you're personally happy and healthy is the key, not trying to conform to some arbitrary aesthetic.
For sultry Nollywood actress, Adaora Ukoh, plus-size is no sin, so she feels happy being fat!
For Adaora, who out of passion for her size, opened and runs a fitness firm tagged 'Adaora Couture For The Plus Sized Woman', we all are quite simply not all meant to be the same. So, it's no harm celebrating and embrace diversity. After all, not so long ago curvaceous, full-figured women were widely considered not only fashionable, but sexy and desirable. Why can't we all just be accepted as we are?
She shares her Nollywood experience to back her passion; "I got into Nollywood when it was still a dribbling toddler. And there was a time I actually did think that I was getting the right kind of growth and progression in the industry. It seemed slow but I was grateful for the jobs I got and I gave them my very best shot But then…I'm not sure what happened really, but it seemed I met a brick wall, or my career was a stalemate.
I grew from confused to angry to confused again to bitter to sad, and then to prayerful.I realised when the jobs came, they were tied to particular kind of roles that had to do with playing a mother, or an over-fed bitter sister-in-law, anything but the major and glamorous roles.
I'm not even going to pretend and say I shrugged it off. I tried to, yet it still hurts like an open sore. I know we live in a skinny world, with skinny people taking all the cream. How we got there, I am not sure. Let's just say it's a tough world for plus size people!
And in all of this, I have tried so many times to lose weight, just so I can "fit in" (not sure what that means anymore) but I have come to realise that I am who I am; what would the world be like if we all had to be slim? Where is the variety of life if God created us all the same? I was hungry for challenging roles as an actress, and a more focused career that is beefed up with endorsements and sort, just like anyone with proper ambition would think for themselves; and to be hampered because of the way-you-look…aaaah!
It just kills!
But anyway I have gradually grown beyond it, and the healing and complete acceptance of who I am continues despite it all.
Now I am focused on things that will succeed regardless of how big or skinny I am!"
© 2013 Nollywoodgists.com
Click the link below to go to...
Nkiru Sylvanus Responds To Rumour On Romance With Imo Governor
Chioma Toplis Finally Unveils White Husband's Photos
"It Is Very Hard For Men Of Nowadays To Find The Right Woman"---Terry G
Pastor Anselm Madubuko Holds Traditional Wedding In Kenya (Pictures)
I'm Sorry For Disappointing Nigerians At BBA--Beverly Osu Begs
Omoni Oboli on Vacation...Still Keeping Mum
My Life After Project Fame -- Monica Ogah
TOPE ALABI'S BOMBSHELL! I CAN'T BE GOING OUT SHABBILY BECAUSE I AM SINGING GOSPEL MUSIC