How This Actress Snatched Tonto Dikeh's Rich Lover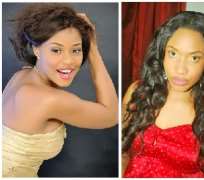 Sexy actress and one of the hottest babes in Nollywood, Onyii Alex is heavily pregnant and expecting a love child with her multi-millionaire Igbo lover who already has a wife, Mr Promise, whom she allegedly snatched from controversial actress, Tonto Dikeh.
Aside the pregnancy wahala, another challenge facing Onyii is the fact that she's been living in hiding since her pregnancy came into the open. A reliable insider told Showbizplus that Mr Promise's wife is looking for the actress who got pregnant for her husband and has threatened to deal ruthlessly with Onyii whenever or wherever their paths crossed, no matter her condition…
In order to avoid the impending wrath of the enraged and betrayed house wife, Onyii's lover boy who always spoils her silly with money, has whisked her abroad for safety and safe delivery, pending when frayed nerves are calmed, from his wife and Tonto Dikeh's side.
Surprisingly, Tonto, whom Onyii snatched Mr Promise from, is also threatening fire and brimstone. Those close to the bitter actress said she has vowed to deal with Onyii for snatching her rich "mugu".
Below is what a close source told ShowBizPlus:
"Forget that story of Tonto wanting to commit suicide over the media intrusion into her privacy. The real cause was Onyii, who snatched her rich sugar daddy Promise, thus leaving her high and dry.
"The separation with Promise, which was caused by Alex, whom Promise dumped Tonto for upon meeting her on a location around Festac, remains one of the saddest chapters in Tonto's life. And I'm sure she has not gotten over it full time. She is still sulking."