MY LIFE WITH HOLLYWOOD STARS – ADORA OLEH, TV PRESENTER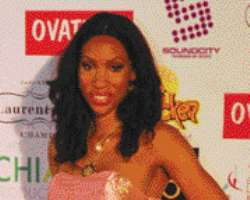 My life with Hollywood stars - Adora Oleh, TV presenter
By TOSIN AJIRIRE and WOLE BALOGUN
Saturday , March 6, 2010
Adora
Adora Oleh is young and pretty. The oldest of three children, she found her love for performing and presenting while studying at a private convent school for girls in London. And for six years now, she has been a television presenter both in the UK and Nigeria. At home, she became popular as the co-presenter of the MTN Project Fame West Africa. But in spite of her achievements, Adora yearned for a platform where she could do things her own creative way.
The delectable presenter wanted something that can really add value to what we have as Nigerians. And having discovered that she has so much to give, Adora then came up with her own programme tagged, The Adora Oleh Show, which features interviews with celebrities, entrepreneurs and society big wigs.
Though a lawyer, Adora's training and experience, backed up with the direct exposure to international music and movie stars like Samuel L. Jackson, Quentin Tarantino, 50 Cent, Kanye West, John Legend, Jamie Foxx, Will Smith, Tom Cruse, Cameron Diaz, Terrence Howard and Sarah Jessica Parker – all of whom she has had cause to interview on many occasions – has provided her with the sound preparation for what she is doing right now.
The Adora Oleh Show, which is produced by ChiAd TV Productions, an independent television and events production company formed in the UK by Adora and her sister, Chika, is exciting and entertaining. Here, Adora opens up to Blockbuster on her lifestyle, challenges, life with Hollywood stars and why her show is a must watch for Nigerians. Enjoy:
Background
I was born and raised in Surrey, England. My parents are Nigerians. My father was a Civil Engineer and my mother is a lawyer and policy analyst. I'm the oldest of three children and studied at a private convent school for girls in London. It was there, on the school stage that I found my love for performing and presenting. I studied Law at University and hold a post graduate diploma in Media Law and Journalism and a diploma in PR/Marketing. I've worked as a broadcast journalist and TV presenter for six years.
Between work and school
Before ChiAd TV Productions, I was studying, but I always knew that working within the media industry was something I wanted to pursue. I also knew that my education was equally important and non-negotiable, so I had to juggle between my education and my work. Whilst at the University, I was also a resident fashion model on the Big Breakfast show, Channel 4 TV in the UK for over two years. While at Channel 4, I also worked with MTV UK. As I moved on, I worked as a fashion correspondent, and an entertainment marketing consultant, I worked with different international film and entertainment companies in the UK including UIP, Paramount, Universal Studios and DreamWorks.
My training and media industry experience, backed up with the direct exposure on various movies such as The Dream Girls, Sex and The City, Get Rich or Die Trying, The Movie, Madagascar, The Bourne Ultimatum, Miami Vice, Collateral, The Holiday and Hustle and Flow, to name a few, has provided me with the sound preparation for what I am doing now.
My sister and I
Over the past five years, my sister and I, under Chiad management, have worked on a number of shows including The Magazine Show and Top Ten Music Show aired on Europe's No.1 Black station BEN TV. Also, we have hosted a number of prestigious events like The Prince of Wales Youth Charity, Thisday Arise Music and Fashion Festival in the UK, Nigerian Music Awards in London, MOBO Awards in London; Miss Nigeria UK in London, Project Fame West Africa; Ovation Red Carol, ION Film Festival in Port Harcourt, Rivers State, and most recently, the M-Net Face of Africa finale in Lagos.
Me and Hollywood stars
I have had the opportunity to interview international celebrities like Samuel L. Jackson, Quentin Tarantino, 50 Cent, Kanye West, John Legend, Jamie Foxx, Will Smith, Tom Cruse, Cameron Diaz, Terrence Howard and Sarah Jessica Parker. I have also talked to top personalities like Governor Rotimi Amaechi of Rivers State, D'banj, 2face Idibia, Olu Maintain, P-Square and many others. Of all the celebrities I have had the privilege of interviewing, I found Tarantino very refreshing. He is very funny and easy to be with. Also, 50 Cent is funny. He made me feel at ease. The musician, Ameire is just a darling and, of course, the talented John Legend and Neyo are interviewer's delights.
Challenges
I always knew that I wanted to work for myself and produce my own TV show under my own production company so, I mentally prepared myself. I knew, even before starting that it was not going to be easy. There were definite challenges along the way at every stage, but I think they are necessary to keep you humble so you can value the goods times and keep you appreciating what you've got.
The Adora Oleh Show
The Adora Oleh Show is a fresh, one hour entertainment TV programme created to focus on positive role models and inspirational young entrepreneurs moving forward in the entertainment and business arena. Our aim is to tell the story behind the success of every successful black man in the world, their struggles, trials, travails, and all that, bearing in mind that the road to success and fame is not an easy one, most times, very rough. Each episode contains celebrity interviews, music reviews, fashion, business creativity and exciting competitions where viewers have the chance to win N100, 000 every week.
In addition, the show will cover special events such as fashion shows, concerts and award ceremonies all geared towards promoting the Nigerian and African image across the globe. The Adora Oleh Show airs every Sunday on Soundcity TV at 3pm and repeated on Tuesdays at 7pm. Other stations where you can watch the show include RSTV on Sundays at 12.30pm, AKBC on Sundays at 2pm, ESBS on Saturdays at 8.30pm, ITV Benin on Thursdays at 8.15pm, DBN and STV. I honestly believe that the show has a real chance of success and growth to raise the bar even higher and exceed all expectations. So far, it is attracting reasonable attention all round and for the next five years I'm keeping a positive focused mind, believing that the show will attract more major sponsors.
Why I'm unique
The uniqueness of the Adora Oleh Show is more in its objectives and nature; because, the show is primarily a platform for showcasing positive things about Nigerians and all Africans. It is motivational, inspiring, and encouraging and because of the four different segments, it has something for everyone.
On Nigerian TV industry
The Nigerian TV Industry is one of the world's fastest growing with so many opportunities; judging by the emergence of independent TV stations and pay-to-view satellite outfits. It's a great opportunity for production companies and content providers. I'm really so happy to see such rapid growth within this area, which is wonderful and proves that the Nigerian TV industry can only get stronger.
On Nollywood
I'm very impressed with Nollywood; I think it is important to remember that Nollywood is the second largest film industry in the world. So, we must be doing something right! The popularity of Nollywood I feel stems from the fact that the films are different from films coming from Hollywood and other conventional film industries around the world, and they concentrate on different themes. But any film maker, whether they are coming out from Nollywood or Hollywood will always need to inject new and fresh ideas in order for that film to be successful and keep the audience wanting more.
Singing and acting
I like to think of myself as a professional TV presenter as opposed to professional actress or singer. But who knows, I may decide to sing or act in future.
My style
For my own personal style statement I think authenticity is very important. I also think that it is important that a woman's outfit reflects the different sides of her personality. I guess where her essence meets her expression. Style to me is also really all about confidence in your individuality.
How I relax
I like to go to the cinema, catch up with friends over dinner and listen to music.