Why Celebritie​s go into other businesses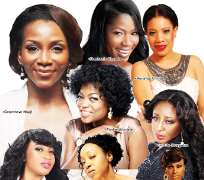 Many celebrities in many years and even now has had other jobs and business apart from their specialized areas they are involved in, Is it that their income is not enough for them or what! That they go into other businesses, some individuals say that many celebrities live beyond their income, and in other to live up to expectations they need something else doing to earn more.
On the popular daily program on TVC "Your View" Omawummi was a Guest where this topic was raised, she said being a celebrity has a life spam, and except you are lucky you will remain relevant, most celebrities must have something to fall back on.
However Omawummi said that celebrities are seen as demi-gods, she also explains why they live excessive lives, but claims she doesn't do it, they need to live beyond the ordinary man's expectation, according to the singer she said there was a time Ruggedman wanted to try another business, and go into clothing line and others, but there is a problem in executing this plans, because There are no proper distribution network to take these business to the extreme, kaffy has branama kitchen, apart from her dancing and she is doing real good.
Some of them go into branding and endorsement to make ends meet, and so on and so fault, we all just need other things to fall back on when things are not going on as in the beginning when we started.
>

Omawumi
© 2013 Nollywoodgists.com
Click the link below to go to...
Why Does Peter of P'Square Keep Impregnating Lola Omotayo?
First Photo of Peter Okoye and Lola Omotoya's Baby Girl
Peter Okoye, Lola Omotayo Welcome Baby Girl In America [Photos]
Why Does Peter of P'Square Keep Impregnating Lola Omotayo?