NAFDAC seizes N2.5m tetanus vaccines in Enugu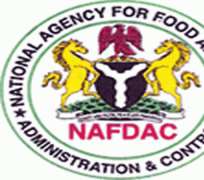 The National Agency for Food and Drug Administration and Control (NAFDAC) has seized two bags of tetanus vaccines worth N2.5 million at the Akanu Ibiam International Airport, Enugu.
The head of the NAFDAC office in the airport, Mr John Okwori, told newsmen on Friday that the vaccines were seized on Oct. 25 during the teams' physical inspection of the items at the airport after they arrived aboard an Ethiopian Airline flight.
Okwori said the action of the airliner's members of staff toward the black boxes put the NAFDAC officers on the alert.
"On Oct. 25, we noticed two strange boxes and found out that the boxes were unattended to and besides there were no passengers around.
"Keeping a close watch on the boxes, our officers saw some Ethiopians Airline staff members dragging the boxes through another exit rather than the normal exit.
"We interrupted and asked them why they were dragging the boxes and they told us the boxes were unaccompanied and that raised suspicion among our officers,' Okwori said.
He said the two boxes were put on hold at the airport while investigation continued to find out why the boxes were unaccompanied and their content.
Okwori said the NAFDAC workers were informed that the contents may be some drugs or biological items.
"Based on the information, I directed the airline officials to ensure that the owner of the boxes was contacted to appear in person, and that if we did not see him within one week we will alert security officials.
"The owner of the vaccines, one D. Iwuanyanwu,appeared a week later to plead for the release of the boxes and we alerted the airport police to apprehend him," he said.
He said Iwuanyanwu played some pranks with some of the airline workers and ran away and that all efforts to get him had failed.
"In the circumstance, NAFDAC, in collaboration with the police and other security agencies, had no option than to forcefully open the boxes.
"In the first box, we found 224 packets of fake Dano Tetanus Vaccine and in the second box we also found 220, a total of 444 packs,' Okwori said.
He said the agency could not see any temperature monitor card in the boxes, one of the requirements for the importation of biological items.
"The vaccines were not declared to the agency and there was no permission for their importation. In fact the drugs were not properly imported," he said.
He warned members of the public against taking drugs that did not have NAFDAC registration numbers.
He said the agency would continue to fight against the importation of fake drugs into the country.