Nollywood Actress, Janet Atayero-Ol​useye Has Kicked The Bucket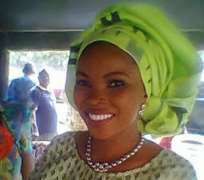 One of the prominent faces of Yoruba genre of Nollywood, Janet Atayero-Oluseye who got married last year to Olalekan Oluseye has passed away.
The 32years old actress passed away on Wednesday 23th of October, 2013. She was a member of Association of Nigerian Theatre Arts Practitioner (ANTP), Ibadan chapter was with the Ojopagogo movie caucus in Ibadan until her death.
Before She died, she was said to have complained of pains on her foot and couldn't walk with it for months and subsequently her health deteriorated even though she was treated in the hospital and some spiritual measures were taken to help her out, she was buried in Lagos, the same day she died