Prophet T.B. Joshua: A Solution To People In Trouble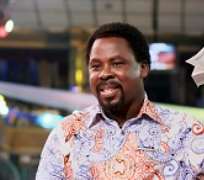 He needs little or no introduction at all, the man behind the pulpit at the Synagogue of All Nation, the church that has the largest number of foreign nationals as ministers who have devoted their lives to the teachings of Christ through the amiable highly-spiritual leader.
Without mincing word, prophet Temitope Balogun Joshua is a man whose sense of giving is legendary, aside preaching of the gospel which is expected of every man of God, this endearing personality has dedicated his life to giving, according to him, "the act of giving is in loving, when you give, you have displayed the trait our Lord Jesus Christ displayed by feeding the multitude of people."
Talking about giving, T.B Joshua who has had top echelons of the world in his church as guests and members gives without expecting anything in return. In one of his books, Roadmap, the Synagogue Church through led by Prophet T.B. Joshua is reaching out to a troubled world as he makes provisions for those people who are displaced, physically challenged, the widowhood or what have you.
Hear his views on that, "as a Christian, your life is a solution to someone in trouble. You should build your Christian life round this principle, knowing that we serve God when we help our fellow brother. Our position in Christ Jesus is enhanced each time we help someone in trouble. This is what our Lord, Jesus meant when he said in Mathew 25:45 that 'whatsoever you do (or fail to do) to the least of the brothers, that you do unto me'. In other words, Jesus was saying here, 'I have a farm where I expect you to work for me or an office where I expect you to help me in checking files. My farm and office are your fellow brothers. Whatever help you render to the least of them; whatever problem you help someone else to solve, that, you render unto me."