WHEN CARRINGTON WEPT BY GANI'S GRAVESIDE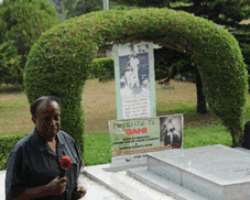 When Carrington wept by Gani's graveside
From Tunde Raheem, Akure
Friday, March 05, 2010
Carrington paying tribute to the late Chief Fawehinmi (SAN), in his country home at Ondo town.
The late legal icon and human rights activist, Ganiyu Oyesola Fawehinmi, may have gone to the great beyond, but he is still being honoured even after his departure. The late fiery lawyer and Senior Advocate of Nigeria died on September 5, 2009, after battling with cancer for a couple of years. Despite his death, people are still eulogising his contribution to the advancement of the rule of law and human rights activism
The former United States Ambassador to Nigeria, Mr. Walter Carrington, is one of the few people who recently poured encomiums on Gani. Carrington could not hold back his tears on Thursday, February 25, 2010, when he formally paid his last respects to the late rights crusader at his graveside in Ondo town. He called on Nigerian lawyers to emulate his doggedness against injustice.
The former US ambassador admonished legal practitioners in the country to always be in the vanguard of the struggle for the defence of people's right at all times.
Accompanied by Ondo State Governor Olusegun Mimiko and his wife, Olukemi, Carrington said: 'Gani Fawehinmi could have lived a comfortable life because of his successful legal practice. Instead, he chose to defend the defenseless through the use of the instrument of the law and mass mobilization against acts of injustice and oppression.'
He described the late lawyer's death as great loss not only to Nigeria and Africa , but the world in general: 'Nigeria , Africa and the world have lost a voice that can never be replaced. May the younger generation take up your mantle and continue the struggle until poverty is eliminated and all men and women have equal opportunity.'
While recounting his days with Gani, the former envoy gave graphic details of the oppression and intimidation rights activists and pro-democracy groups went through during the Abacha regime: 'A pro-democracy group gave me a farewell but, Abacha people did not allow it to take place, they surrounded the venue. We decided to change the venue by going through unidentified paths to somewhere in Surulere. But we were later found by the then Rapid Response Squad (RRS) men. I saw their commander making a phone call that 'Oga, we have found them, the Ambassador is about making a speech.'
'Then a soldier threatened to shoot me. Gani confronted and dared them to come and disrupt a private event. Eventually, they left when it was obvious that he would not be browbeaten by their guns and all. That was the type of person Gani was. He was never afraid, always in the forefront. He was a great champion of rights.
In her tribute, the envoy's wife, Arese, wrote in the condolence register: 'You were a voice for the voiceless, a defender of the defenseless. Walter and I can never forget you. Generations to come will hear of your great deeds'.
Mimiko thanked the Carringtons for the visit saying the greatest tribute to the late legal giant was for freedom fighters to continue to uphold the ideals which Gani stood for in his lifetime.
Responding on behalf of the family, Alhaji Jubril Fawehinmi, expressed appreciation for the visit. He said that the family was thoroughly thrashed by his death, but noted that it had since been demonstrated by the pro-democracy world that Gani lived on. Carrington had on Monday February 22, delivered a lecture entitled: 'Electoral Reform, Good Governance & Democracy' in commemoration of the first year anniversary of the Mimiko administration. He canvassed the establishment of an Independent National Electoral Commission (INEC) that would be trusted by Nigerians before the year 2011 general elections.
The former US envoy said credible people should be saddled with responsibility of conducting future election in the country. He stressed that conducting a free and fair election in Nigeria would continue to be a mirage until there was an electoral system that ensured ordinary peoples' votes counted.