BLOODY DAY IN ISARA AS PDP FACTIONS CLASH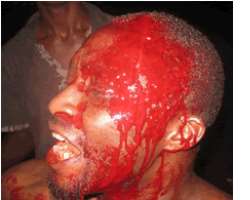 Perhaps, if Mr. Keji Ibrahim of Isara, Ogun State, had had an inkling of the calamity that would befall him penultimate Wednesday, he would not have joined his colleagues for an outing at an entertainment corner in the town.
Ibrahim along with others had barely settled at the ''joint'' close to the town's market when pandemonium broke out.
The confusion arose after some boys loyal to an aspirant to the Remo Federal Constituency seat arrived the beer parlour. Both Ibrahim and his attackers were members of the ruling Peoples Democratic Party (PDP).
Already, the former Special Adviser to Governor Gbenga Daniel on Rural Roads and Infrastructure, Otunba Fatai Sowemimo, had shown interest in the seat which is currently occupied by Hon. Dave Salako.
'They had barely arrived the joint when they started hurling abusive language on us, threatening to deal with anyone who dared them. They later splashed larger beer on us.
'Within a twinkle of an eye, they hit me and ran away. We thought they had left, not knowing that they had laid an ambush for us. When they attacked us, they stabbed us with bottles and hit us with sticks.'
It was a bloody day as members of the PDP unleashed terror on each other. Already, five persons including a council official had been arrested by the police for allegedly stabbing three persons. Two other suspects were said to be at large.
The suspects had since been transferred to the police force headquarters, Eleweran, Abeokuta . The suspects, according to the police had the records of assaulting people.
The suspects, Daily Sun learnt, had in October 2009, attacked the former vice chairman in the council, Hon. Mustapha Musa. Also in December, they publicly assaulted the PDP state financial secretary, Hon. Muyiwa Sodade, who is also from the area.
The suspects were also said to have last January attacked the former chairman of the ACOMORAN in the local government, who is currently the state PRO, Mr. Gbenga Awokoya (a.k.a YARO).
The Divisional Police Officer (DPO) in Isara, Mr. Bamidele Awoniyi, who confirmed the incident said the matter had been transferred to the force headquarters.
The state police spokesman, Mr. Muyiwa Adejobi, who also confirmed the incident said: 'The police is on top of the situation. Those arrested have been transferred to the State Criminal Investigation Department (SCID) for necessary investigations and action.
Adejobi, who urged individuals and groups to embrace peace in the state, also warned that the Police Command would not tolerate any person or groups of persons under any aegis to foment trouble.