The Stealing Is Too Much; Enough Is Enough!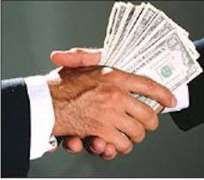 All Nigerians join me to call Ted Cruz's office and ask him the following questions. Please remember we're not in any way in support of email scamming nor defending the act. However there're multitudes of scammers in the nation.
Also there're handful dejected Nigerian email scammers. But when you call Ted Cruz ask him these:(1) how long did his father sneaked into Africa to buy and enslave our people who were very poor and needy? (2) built prisons to incacerrate our people physically and mentally (3) privatized prisons so that they can make more money over our people(4)there're 2.3 million American population in prison today, 10 million nationwide are children, 78% are women, 64% are fathers, how many out of 2.3 million are Ted's people? (5) they rendered our families and community dysfunctional in order to continue the divide and conquer scheme (6)he enjoys collecting more taxes on the needy than the rich. Ted Cruz is a bigot and hypocrite call him at DC 202-224-5922 or Texas 214-599-8749 and 512-916-5834.
Fellow Nigerian Americans and Friends of Nigeria please standby for next line of action soon
Sylvester Okere
Executive Director:
Continental African Leadership Council (CALC)
[email protected]