IGP to seek support on intelligence, counter-terrorism in U.S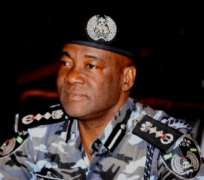 The Inspector-General of Police, Mr. Mohammed Abubakar, would during a visit to the United States seek the support of international security agencies on intelligence gathering and counter-terrorism.
According to a statement issued by the Force Public Relations Officer, Frank Mba, on Friday in Abuja, Abubakar is expected to visit the United Nations headquarters in New York between October 21 and October 25.
'The IGP is expected to discuss the challenges militating against effective and efficient deployment of the Nigeria Police personnel and equipment for peace-support missions.
'He would seek the support and collaboration of the UN towards addressing these challenges,'' the News Agency of Nigeria quoted the Force spokesman as saying in the statement.
According to the statement, efforts being made to improve the performance of the Nigeria police contingents in sub-regional, regional and UN peacekeeping missions would be discussed.
The statement said that during the visit, the IGP would meet with officials of U.S. Federal Bureau of Investigation and New York Police Department.
It said that he would also meet with State Department officials to exchange ideas and strategies on intelligence gathering and counter-terrorism measures.