THE STORY ACCORDING TO MR. MICHAEL LATHBRIDGE WHAT CRIME HAS T.B JOSHUA COMMITED KAYODE PETER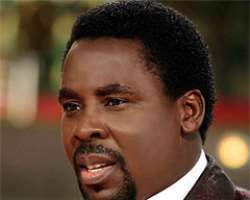 From an exclusive interview granted to modernghana.com based on an earlier published article"'HOW T.B. JOSHUA TOOK MY WIFE' – Pastor Peter Kayode tells it all" concerning Pastor T. B. Joshua of the Church of All Nations.
According to Mr. Lathbridge, pastor Kayode and his wife joined the church due to fruit of the womb problem. They met with Pastor T. B. Joshua and just like the woman with the issue of blood for 12 years in Mat 9:20-22, and the man by the pool of Bethesda in John 5:1-18, and many others had to wait for their healing, Kayode Peter had to wait for his too, for healing process to begin.
As such, this whole confusion started right after he became a member of the church. At this time, the church had no branch in Ghana, Accra and members had to travel all the way to Nigeria by road to attend church service. It came to light that, members were rubbed on their way is this caused fear among members.
Eventually, the church decided to have a branch here in Ghana to save members the trouble of travelling to Nigeria and somewhere in 1997, after Ghana for Christ Crusade the church was ready for use.
Pastor Kayode was asked to come down and help in the running of the church. Eventually as the membership increased, more hands were sent down to help pastor Kayode. All the people sent down never stayed long because Kayode always had something bad to say about the people brought in and had to return to Nigeria.
He preferred to work with Ghanaians only Who don't have direct access to TB Joshua to report to him, should he do anything so that, all his dealings were saved right here and by this time he had become the head of the church in Ghana.
According to Mr. Lathbridge, Kayode was eventually asked to return to Nigeria because it was time for his healing but he refused and his wife was sent down to him. Within three months of her stay in Ghana, she became pregnant hence she was stopped from all duties. Birds of the same furthers they said flocks together, the wife whom we all call Sister Lola in pursue of being good she was planning wickedness against her fellow woman and that's where she tripped over a wooden plank laid over a drainage and fell and suffered miscarriage after Kayode peddled false allegations against Pastor T. B. Joshua. Pastor Kayode made away with money belonging to the church to establish his own and as if this wasn't enough, gifts of land, money and vehicles including the Audi salon car he uses all belonging to the church, Kayode took everything away with him. Pastor T. B. Joshua never asked him to return anything to the church.
Kayode also mentioned that, pastor T.B Joshua engage the services of military personnel in the running of the church but according to Mr. Lathbridge, the military personnel are all members of the church he came forward to suggest the overseer the need to have security at the church. This became important due the high incident of fraudulent activities some of their foreign members suffered when they visit the headquarters from fraudsters who pretended to be workers of the Church collecting their contact details to request for money,. Also, some member came to the church and leave behind dead babies and other nasty activities.
This is all the truth and all that transpired between pastor Kayode and the Church of All Nations.
What was carried in Ghanaian journal issue were all fabricated by Kayode to discredit Pastor T. B. Joshua and Church of All Nations.
Kayode please tell the truth and shame the devil
Development /Ghana/ Africa / Modenghana.com