Mark: We Won't Declare Any Senator's Seat Vacant on Account of PDP Crises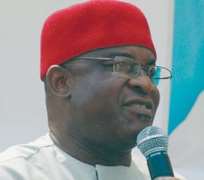 Senate President David Mark today in Abuja ruled out the possibility of the Senate declaring vacant the seat of its member who joins the breakaway faction of the Peoples' Democratic Party (PDD).
Mark also ruled out the possibility of him defecting to the new group. He promised to remain in PDP and help its leadership find a way out of the current problems.
The Senate President spoke when he received a delegation of the Kawu Baraje-faction of PDP today in Abuja.
Mark's Chief Press Secretary, Mr. Paul Mumeh quoted his boss as saying, "Even if you have a knife in my head, I will stand for justice, fairness and equity…"
"We are stronger and better as one big , strong and united party . We need to work together and make our democracy sustainable," Senator Mark told the leadership of the factional party.
Mark, according to his spokesman, counseled the warring groups to lay the cards on the table honestly and objectively.
Senator Mark, added Mumeh,  "stated that the law makers elected on the platform of the party will remain united and cohesive saying that what makes for the good of the nation and her citizens would be their watch word."
Stressed Mark's spokesman; "He maintained that  the leadership of the National Assembly has no intention to declare any seat of the senators or House of Representative members vacant on account of the crisis hoping that the issues would be resolved amicably soon."
The statement quoted Baraje as demanding, among other things, the recall from suspension of governor Rotimi Amaechi of Rivers State, as well as  recognising the Rivers' governor as the duly elected chairman of the Nigeria Governors Forum (NGF).
The group, explained the statement,  also demanded the reversal of the dissolution of the Party Executives in Rivers and Adamawa states, removal of Alhaji Bamaga Tukur as National Chairman of the party, strict adherence to party constitution and total objection to third term from the back door.