Fashola bars Molue from Lagos Island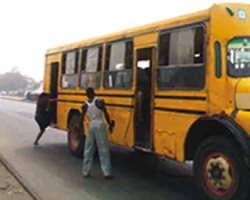 The Lagos State Government has barred big commercial buses, popularly called Molue, from operating on Lagos Island.
In addition, they are barred from plying Third Mainland, Eko and Carter bridges.
A statement from the General Manager, Lagos State Traffic Management Authority, Mr. Babatunde Edu,  on Thursday said that operating in the Central Business District had become history for the buses.
He explained that the move was to ensure adequate monitoring of the operations of commercial vehicles and ensure that the complied with traffic rules and regulations.
Edu, who disclosed these  a stakeholders' meeting with branch chairmen of the Lagos Urban Bus Owners Association of Nigeria, the operators of Molue buses in the state, said the directive became effective from August. .
He said, 'This directive had become effective since August, 2012, but Lagos State Government, being a responsive and responsible government which believes in enlightenment before enforcement, decided to shift the enforcement to September 2013.
'LASTMA officials have been mandated to ensure strict compliance and impound any Molue that is found to have flouted the directive after September 4, 2013,' he said.
The General Manager said that the action was not tantamount to banning the operation of the buses, saying they could perform their operations in any other parts of the state apart from the restricted areas.
Edu said, 'The government has not banned the operations of Molue in the state. Rather, it has restricted their operations to areas like Orile, Iyana Ipaja, Mile 2 and Mile 12.'
He said the prohibited routes included Iddo, Ebute Ero, Apongbon, Obalende, Idumota and CMS.
The leader of the team, Mr. Taofeek Adesina, commended the government for its effort to restore sanity and order in the state and pledged the readiness of his union to support the new cause.