UBA plans to invest $2b in African power sector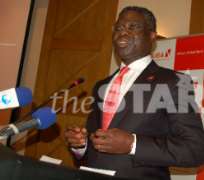 The United Bank for Africa (UBA) has invested $700 million this year financing power assets in Africa's second biggest economy.
The Managing Director/ Chief Executive of the bank, Phillips Oduoza, told Reuters this is part of  $2 billion which it plans to invest in  power projects across the continent over the next three years.
According to Oduoza, he expects the bank to grow loans by around 14 per cent in the next six months, as it had done in the last six months.
Nigeria is reforming its electricity sector in a privatisation scheme meant to end the country's chronic power shortages. President Goodluck Jonathan last week said bidders for state electricity assets had completed payments, clearing a major hurdle in the process.
"We have been financing different parts of the power sector both generation and distribution. We are looking … in Nigeria and across Africa with around $2 billion in the next 3 years," Oduoza said on the sidelines of an economic conference in the Nigerian capital Abuja.
Of that, he said around $1.2 billion would be earmarked for Nigeria, a country suffering massive power shortages as demand outstrips supply, forcing those who can afford it to rely on diesel generators.
The state-owned monopoly power firm has been broken up into 11 generation companies and six distribution companies, all being sold separately to private consortia, for a total of around $2.5 billion.
UBA said in May it expected to grow its loan book by 30 percent this year, up from 6 percent in 2012, as it targets consumer and infrastructure financing.
"The top line loan growth by first half was about 14 percent … for the next half we are expecting about the same thing," Oduoza told Reuters.
He added that African countries outside Nigeria continued to be a growing part of the business, expected to be about 22-25 percent this year, up