BBATheChase Romantic Holiday Trip: Elikem spends time with Pokello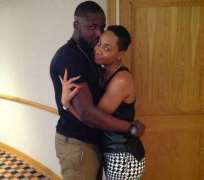 Elikem and his girlfriend-in-the-making Pokello have already gotten down to some serious romance business, days after the former left the Big Brother Africa reality television show, which wrapped up on Sunday evening.
Images of both lovebirds, looking all intimate have surfaced online. The images are suggestive of how tight they've become post BBA, and just how serious they are taking this whole love-brewed-on-reality-television.
Both are set to go on a sponsored holiday trip worth some USD 10, 000, his reward for winning the Most Romantic Housemate of The Chase, voted for by the show's viewers.
Elikem's prize package includes:
- A five-night, all expenses paid stay in a luxury room at the Sarova White Sands Hotel in Mombasa, Kenya.
- Two return air tickets courtesy of Rwanda Air as well as spending money.
Click the link below to go to...
Dillish Wins BBA The Chase $300,000 Prize
Melvin and Beverly Osu Evicted From Big Brother The Chase #BBATHECHASE
BBA Host, IK Osakioduwa's Wife Blasts Beverly Osu Over Comments On Hubby
Who Will Win BBA The Chase? Vote Now!
AfroCandy Insulted Me With Her Statement- Uche Ogbodo
Afrocandy To Cast Uche Obodo, Cossy Orjiakor, Anita Joseph In An immoral Movie
DNA Test Revealed That Am Not The Biological Father Of Her Second Daughter, Afrocandy's Ex-Husband Revealed
Igbo Actress, Uche Obodo, Craves For Attention, Wishes To Act Unclad