RWANDA PRESIDENT'S WIDOW HELD IN FRANCE OVER GENOCIDE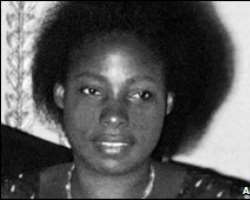 nerPostTitle">RWANDA PRESIDENT'S WIDOW HELD IN FRANCE OVER GENOCIDE Written by furtune World News http://www.nigerianbestforum.com/blog/?author=25 http://www.nigerianbestforum.com/blog/?cat=402 Mar 2, 2010
http://www.nigerianbestforum.com/blog/wp-content/uploads/2010/03/47401687_008874544-1.jpg The widow of former Rwandan President Juvenal Habyarimana, whose assassination triggered the Rwandan genocide, has been arrested in France.
Agathe Habyarimana is accused by the current Rwandan government of helping to plan the 1994 genocide, and has long been sought by prosecutors there.
Mrs Habyarimana, who has been living in France for several years, denies the accusations.
More than 800,000 Tutsis and moderate Hutus died in the massacres of 1994.

FRANCE-RWANDA RELATIONS
Diplomatic relations broken off 2006, restored late 2009
French judge said current President Paul Kagame had been behind President Habyarimana's assassination
Rwanda accused France of arming Hutu militias
French officials said Mrs Habyarimana was detained in the Paris region by police executing a Rwandan-issued international arrest warrant.
Her arrest follows a visit to Rwanda last week by French President Nicolas Sarkozy, when he admitted that France – and the wider international community – had make "mistakes" over the genocide.
His comments followed years of strained relations between the two countries.
Diplomatic relations were restored late last year having broken down after a French judge said President Paul Kagame had been behind President Habyarimana's assassination, and Rwanda accused France of arming the Hutu militias involved in the 1994 genocide.
President Habyarimana died in April 1994 when his jet was hit by a missile over the Kigali airport.
Hardline ethnic Hutu supporters of the president then launched the apparently pre-planned massacres.