BBC 6 MUSIC AND ASIAN NETWORK FACE AXE IN SHAKE-UP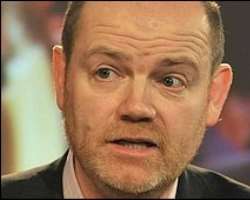 nerPostTitle">BBC 6 MUSIC AND ASIAN NETWORK FACE AXE IN SHAKE-UP Written by furtune Entertainment http://www.nigerianbestforum.com/blog/?author=25 http://www.nigerianbestforum.com/blog/?cat=397 Mar 2, 2010
http://www.nigerianbestforum.com/blog/wp-content/uploads/2010/03/47399713_008538449-1.jpg BBC 6 Music and Asian Network are facing closure, Mark Thompson, director general of the corporation, has said.
Speaking to staff, Mr Thompson also announced that half of the websites on BBC online will close by 2013.
Among the closures will be teen services Switch and Blast, with Mr Thompson admitting Channel 4 should lead the way with these audiences.
The strategy review has now been submitted to the BBC Trust and a public consultation period will take place.
'Cultural vandalism'
Mr Thompson pledged that in the future, 90p of every licence fee £1 will be spent on programming and the corporation would spend 25% less on BBC online.
The review said more money will be ploughed into international news and the BBC must put a higher proportion of the licence fee into quality programmes to make "fewer things better".

FIVE EDITORIAL BBC PRIORITIES
1. The best journalism in the world
2. Inspiring knowledge, music and culture
3. Ambitious UK drama and comedy
4. Outstanding children's content
5. Events that bring communities and the nation together
As a result of the changes Mr Thompson said he expected the plans would see an extra £600m ($893m) diverted into programme-making.
Radio 2 needed to "sharpen its distinctiveness in its range of music and speech" and while the quality of local radio should be increased, he proposed sharing more programmes across outlets during off-peak periods.
During the briefing Mr Thompson said the earliest 6 Music and Asian Network would close would be by the end of 2011.
It was reported on Friday that the two digital stations would be closed, after the report was leaked to The Times.
Following the leaks, the BBC was heavily criticised by music industry figures, with the heads of the British Phonographic Institute and the Association of Independent Music saying they were "surprised and alarmed" by the reports.
BBC broadcaster and journalist Charlie Brooker said: "I was going to buy a digital radio next week. If they get rid of BBC 6 Music I might as well not bother."
Music producer and musician Mark Ronson told BBC Radio 5 live that he was "definitely joining the petition" to keep 6 Music on air.
He added: " It would be a bad thing if it closed down. It's great old music, it's great new bands. People on that station love music."

Charlie Brooker will not buy a digital radio without 6 Music
Meanwhile, broadcasting workers' union Bectu, said up to 600 jobs could go.
General secretary of the organisation, Gerry Morrissey, said: "These cuts are totally unnecessary and are purely politically motivated.
"It is obvious that the BBC is being bounced by its competitors and by the political climate ahead of the upcoming general election.
"It is not acceptable for the BBC to be offering up services and jobs as some kind of sacrifice ahead of the general election."
Jeremy Dear, general secretary of the National Union of Journalists, added: "Public pressure can help persuade the BBC to put its viewers and listeners first, rather than allowing the corporate media barons to have their way and begin dismantling a vital national service.

It would be a bad thing if it closed down
Producer Mark Ronson on 6 Music closing
http://www.bbc.co.uk/blogs/haveyoursay/2010/02/where_should_the_bbc_cut_back.html
"These plans smack of an attempt to appease commercial and political interests. Hard-working staff shouldn't be used as a political football and we will fight any compulsory redundancies."
Union leaders will meet Mr Thompson on Wednesday but have already warned industrial action might take place to fight the cuts.
Mr Thompson has denied that the proposals have anything to do with the forthcoming election.
"The proposed changes we are announcing today are not a piece of politics. It is also not a blueprint of a small BBC or a BBC that is in retreat from digital," he said.
He added: "It is exactly because the media is changing so fast that we must articulate our public service mission and our values more clearly and consistently than ever before. There can be no turning back on our digital journey.
"But we also have to recognise the profound challenges facing much of commercial media.
"And that, while some attacks made on the BBC are destructive and baseless, others represent legitimate concern about the boundaries of what we do, and about our future public service and commercial ambitions. We need to listen more closely than we have in the past."
BBC Worldwide is expected to go through a period of change, with the possible loss of magazines such as Top Gear, Radio Times and Gardeners' World.
It will also move to a more international focus, deriving at least two-thirds of its revenue from outside the UK by 2015.