Anambra election: PDP suspends Andy, his brother Uba, others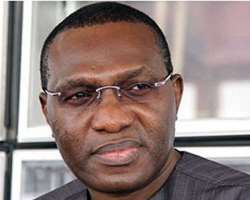 The National Working Committee of the Peoples Democratic Party on Thursday suspended Senator Andy Uba and his brother, Chris from the party.
Also suspended are Ejike Oguebego, Chief Benji Udeozor and  Mrs. Tonia Nwankwu.
The five men were accused of conducting a parallel state congress for the nomination of governorship candidate in Anambra State on Saturday.
A letter announcing the suspension of the Uba brothers and others had been sent to the affected party chiefs by the acting National Secretary, Dr. Charles Akintoye.
The acting secretary was  directed to write them on their current status having snubbed the NWC which invited them to explain the role they played at the parallel congress.
The letter, dated August 29, read in part,  'The NWC at its 353rd meeting held on Wednesday,  28th August,  2013 reviewed the happenings in Anambra PDP regarding the Anambra Primary election.
'It was noted that you organised a parallel state congress which was unauthorised by the party contrary to section 58 (1) a, b, c, f, h and j of the PDP constitution (2012 as amended).
'As a result of this, you were invited to meet with the NWC on Wednesday 28, August,  2013 for fair hearing,  but you did not appear.
'In view of the seriousness of the issues involved,  you are hereby suspended from the party and the case referred to the appropriate Disciplinary Committee for further necessary action.'
However, sources close to the affected party officers said that the affected party chieftains have obtained a Court order stopping the party from taking and disciplinary action against them but the party had served them with the decision before they got the court order.