What Is The Problem With ASUU?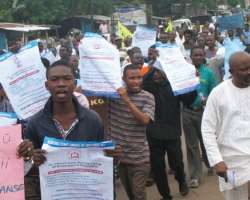 As an undergraduate, having experienced firsthand the rot that pervades our universities, I became a keen sympathiser with the cause of the Academic Staff Union of Nigerian Universities (ASUU). I believe that university teachers have the right to good working conditions. Education can only be effective in an environment where we have the right infrastructure, proper funding and necessary motivation for teachers and students alike. And, as far as I was concerned, that's what ASUU has been fighting for. So, I would usually go any length to stand by their position.
However, considering the situations surrounding the current strike, I am beginning to think otherwise. ASUU seems to be changing to a sort of academic oligarchy in which a few people determine the course of the association in a bid to pursue some sinister interest. Why else would the supposed intellectuals remain adamant in spite of concessions by the government and entreaties from the citizens? Apparently, the desire for personal rewards is paramount in the hearts of the dons as against the commitment to fulfil their roles as nation builders that they are supposed to be.
When the Federal Government approved the sum of 100 billion naira for infrastructural facilities and 30 billion naira for allowances last week, everyone was almost certain that ASUU would call off the strike. But as far as the almighty association is concerned, that might as well be a daydream. Neither the government's concession nor their students' plight is enough to make them do what is right. From the way things are, it appears that ASUU wouldn't mind shutting down the entire economy if only to satisfy their requirements.
Taking a comprehensive assessment of the situation, one even begins to wonder if ASUU's requests are legitimate in the first place. What do the lecturers have to show for the interventions that have been made in previous times? How has increase in allowances contributed to the improvement of teaching and research in our ivory towers? Rather than being inspired to greater heights of commitment, a good number of our lecturers have plunged to greater depths of indolence and even shameless exploitation.
I was shocked when during my NYSC year, some of my fellow corps members narrated their ordeals of how they were obligated to buy certain handouts without which their failure was guaranteed regardless of how well they performed in the examinations. Others had to buy expensive gifts like car tyres, refrigerators/freezers and other items just to persuade their supervisors to ratify their final year thesis. Yet, these are the same people holding everyone to ransom over allegations of unpaid allowances. It is high time ASUU reconsidered its position and made necessary concessions whilst also calling her members to order in a bid to restore our universities to the bastions of academic excellence that they are supposed to be.
Ayodeji Sunday is a writer and public affairs analyst. He writes from Lagos, Nigeria.
Disclaimer:

"The views/contents expressed in this article are the sole responsibility of the author(s) and do not necessarily reflect those of The Nigerian Voice. The Nigerian Voice will not be responsible or liable for any inaccurate or incorrect statements contained in this article."
Articles by Ayodeji Sunday