Why We Should Legalize Corruption?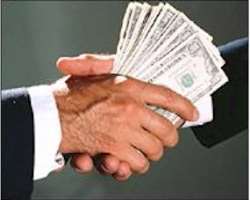 Really? This whole thing is no longer making sense. I don't want to be artistic in my writing here. I just want to pour out my piece of mind. What on earth is our problem in this country. We can't just get a grip on ourselves and our unreasonable, inhuman acts. It seems we all are at war with common sense.
Wait a minute! Before you place your self in a tug-off-war position against me. I've been keeping my calm for days now - watching things unfold. I've sat back and relaxed to see Nigerians wake up daily to their rat race and the normal suffering and smiling lifestyle. I laugh. We all are fooling ourselves. I'll still reiterate my point - Revolution - a purpose driven one is what we need.
Something aggravated my anger, a headline on Linda Ikeji's Blog: "Photos from imprisoned Ex-Gov James Ibori's 55th birthday party". I couldn't fathom the insensitivity of the "family, friends, political associates, traditional rulers and captains of industries" that "gathered to celebrate the 55th birthday ceremony" of someone who's currently serving a jail term for money laundering. Isn't that sheer stupidity or should one call it madness? What message are those folks trying to pass across to today's youth?
To make matter's worse, right below that particular story was another annoying news with the headline, "EFCC arrests man with 30 ATM cards and 8 signed cheques". "And so what?" I thought. As much as I frown against fraud, I see no reason why the 'poor' fellow should be humiliated by EFCC, when the real thieves, including the ones proclaimed by the court as guilty are still being celebrated. It doesn't get more annoying you know.
We are in a country where the government encourages terrorism, vandalism, kidnapping and insecurity through their amnesty offers, negotiations with criminals, and fat pay checks to crooks. Have we no shame? Can't we just call a spade a spade. James Ibori is a thief and he deserves to be treated as one. Same goes for the so called lunatics parading themselves as political godfathers and forerunners of democracy. They've milked this country of all it's happiness.
ASUU has been on strike for over a month, there is no end in sight yet as per their negotiation with the Federal Government. We subscribe for internet access on our phones, and network providers fail to make you enjoy the services. No one is talking about that. Our roads are messed up! You have to start speaking in tongues if you don't want to spend hours on the road, talk less of accidents that are caused by the bad roads.
Electricity has become a thing of the past for us in this nation. Young fellows trying to start a business are struggling as a result of lack of power supply. Generators constitute a nuisance to their owners, neighbours and the society at large.
Nothing seems to be in the right position. Yet, we go about giving honour to dishonoured men. Men who are meant to be paraded, stripped naked and beaten in public while children sing sad and shameful hymns to them. We really need to get a grip on our common sense. We've lost it and we need to find it as soon as we can.
All is not well with this country. We all are just acting selfish and greedy. And if we continue this way, our children will despise us in our old age. They will ask, what did you do to make Nigeria better?
Disclaimer:

"The views/contents expressed in this article are the sole responsibility of the author(s) and do not necessarily reflect those of The Nigerian Voice. The Nigerian Voice will not be responsible or liable for any inaccurate or incorrect statements contained in this article."