Jonathan Calls El-Rufai A Serial Liar, Advises Akande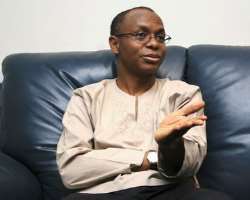 President Goodluck Jonathan took a swipe at the former Minister of the Federal Capital Territory, Mallam Nasir El-Rufai describing him as a serial liar.
The President in two separate statements signed by Presidential Spokesman, Dr. Reuben Abati also ask a chieftain of the All Progressive Party, APC, Chief Bisi Akande for comments made against the Presidency to respect his age while making comments.
El-Rufai had in a recent interview accused the President of playing ethnic card and religious politics.
But Abati in a his response for the President accused El-Rufai of lying against everyone including General Muhammadu Buhari, another chieftain of the APC.
The Statement reads:
'My attention has been drawn to comments made by a former Minister of the Federal Capital Territory, FCT, and now chieftain of the All Progressives Congress, APC, Mallam Nasir El-Rufai, published in several newspapers where he made wild allegations against the person of President Goodluck Jonathan.
'This most recent interview, like others he gave in the past only shows that El-Rufai is a serial liar and the facts of history bear me witness.
El-Rufai accused President Goodluck Jonathan of playing ethnic and religious politics, however, any objective watcher of the President knows that this is untrue.
'For instance, the Muslim Ummah just emerged from the Ramadan fast and the President, though a Christian, joined them in fasting and severally broke the fast with Muslims at the Presidential Villa.
'Also, in the history of the existence of Nigeria as a nation, no leader has spent the quantum of funds that President Jonathan has spent on education specifically tailored for Islamic itinerant scholars known as the almajiri. In the composition of his cabinet, the President has appointed Muslims into sensitive positions and ensured a balance that has been commended by many in the Islamic fold.
'But it is most curious that this allegation is coming from Nasir El-Rufai, a man who profaned the name of Jesus Christ on Twitter by tweeting a joke which is too indecent to mention in the presence of civilized persons. This same El-Rufai is the same man who in June of last year claimed that Christians were behind the bombings of their own churches rather than terrorists and were doing this to further a Christian agenda.
'It is only a measure of his inconsistency that El-Rufai is today accusing the Presidency of being afraid of General Muhammadu Buhari whom the same El-Rufai said was "perpetually unelectable". In fact, the accusation El-Rufai is now making against the President is precisely the same accusation he made against General Muhammadu Buhari on October 4 2010 when he said Buhari's "insensitivity to Nigeria's diversity and his parochial focus are already well-known". Today, El-Rufai is serving this same Buhari.
'That El-Rufai is not above lying to the media to achieve his political objective was proven in Segun Adeniyi's book, 'Power, Politics and Death'
when El-Rufai was quoted to have confessed in the presence of multiple witnesses who are still alive today that "There was no cabal, we created the myth to neutralise Turai'. El-Rufai sold Nigerians the dummy of a Turai cabal which was a lie used to further his own political ends.
'In any case, we have a record of what El-Rufai truly thinks of President Jonathan from the leaked secret diplomatic memo from the U.S. embassy in Abuja which revealed that just before the April 2007 Presidential election El-Rufai had told the then U.S. ambassador to Nigeria that the then Vice Presidential candidate, Dr. Goodluck Jonathan, was "clean and honest".
'Mallam El-Rufai's comment on the Vice President is also unfortunate.  The report quoted him as describing the administration of Arc Mohammed Namadi Sambo in Kaduna state as a disaster, purporting that the vice president as a former governor of Kaduna state incurred a huge debt profile that compelled his successor to complain. At no time did the late Governor Yakowa ever accuse the Vice President of incurring any huge debt during his tenure as Governor of Kaduna State.
'For the records, when the Vice President was in charge as Governor of Kaduna state, the state never borrowed a penny from any quarters. The efforts to generate cheap funds for development, which he applied for were just recently approved by the Islamic Development Bank for the state.
'It is on record also that the Vice President made judicious use of the state's resources in reviving the already comatose railway sector, construction of a 150-million litres per day Zaria water treatment plant, the construction of a 300-bed specialist hospital and 5,000 kg grain silos  for each of the three senatorial districts, the building of a games centre at the Murtala Mohammed Square and the Ahmadu Bello Stadium in Kaduna; the construction of a brand new Governor's office at the Sir Kashim Ibrahim  House; the establishment of a mobile and effective security outfit codenamed Operation Yaki and the deployment of 27% of the State's budget to education amongst other achievements.
'Since El-Rufai has a history of saying the truth privately and the lie publicly it suffices to warn his current fellow co-travelers that a man who can betray those who brought him up in politics is capable of anything. Nigerians should consequently take his words with not just a pinch of salt, but a spoonful because a double-minded man is unstable in all his ways.
'We are not the least surprised with such vituperations from Nasir El-Rufai. His public record of treachery and slander is still very fresh in the minds of Nigerians. His verbal assault on his original benefactors for worldly gain, his record of double standards and his treatment of the late Justice Bashir Sambo speak volumes of his character.
'The false accounts he rendered in his recent collection of half-truths and outright lies which he accidentally titled The Accidental Public Servant further define his public image as an ungrateful, self-serving and loquacious personality.
Also, The Presidency on Sunday urged  the Interim National Chairman of the All Progressives Congress, APC, Bisi Akande, to respect the truth, his age and the nation, whenever he makes a statement.
The Presidency spoke against the backdrop of Akande's statement in which he described   President Goodluck Jonathan's style of leadership as
'kindergarten'.
Reacting through the Special Adviser to the President on Media and Publicity, Rueben Abati, the presidency stated that the APC was bent on drawing away attention from the ongoing feud between its leading leaders, Muhammadu Buhari and Bola Tinubu.
The statement advised  the newly registered party to act like a democratic association.
It further took a swipe at Buhari, by saying that the APC should not mistake itself 'for the Armoured Personnel Carrier (APC) that someone used to force his way to power.'
Below is full text of the statement.
PRESIDENT JONATHAN TO AKANDE: RESPECT THE TRUTH ,YOUR AGE AND NIGERIA
We have noted with dismay the continuation of efforts by leaders of the opposition to promote themselves and their party through the irresponsible denigration of President Goodluck Jonathan and the exalted Office of the President of the Federal Republic of Nigeria.
The interim national chairman of the APC, Chief Bisi Akande sank to a new low in this regard yesterday when he rudely and falsely described President Jonathan as a 'kindergarten' leader who treats national issues with levity.
Chief Bisi Akande has every right to embark on a flight of fancy about the APC beating the PDP in the 2015 general elections, but he does no justice to his age and status when he resorts to propagating falsehood, wilfully insulting the President of his country, impugning his integrity and desecrating the very office which his party wishes to take over in 2015 by fair or foul means.
We urge Chief Akande and his fellow-travellers to remember that there are laws against libel and defamation of character in this country even if there are no legal impediments to indecorous, hypocritical and unpatriotic vituperations.
It is certainly rude, ill-mannered, uncharitable and hypocritical for Chief Akande to falsely and cavalierly allege that a President who toils tirelessly every day of the week, evolving and implementing workable solutions to Nigeria's problems, is handling national issues with levity.
Also, nothing else but gross ignorance and lack of consideration could have led Chief Akande to refer to a President who, having served as deputy governor, governor, vice president and president, has far more experience of governance at the highest level than him and his preferred 'candidates', as a kindergarten leader.
By his very unguarded and intemperate outburst yesterday, Chief Akande exhibited not only an unbecoming lack of respect for the person and office of the President of his country, but also a complete disregard for the patriotic feelings of the millions of Nigerians who voted for President Jonathan and who continue to appreciate his sincere efforts to positively transform the nation.
It is very sad and unfortunate that unbridled ambition for the office they constantly impugn and denigrate has blinded Chief Akande and his ilk to the visible accomplishments of the Jonathan Presidency.
Certainly, nothing else but a manic and unscrupulous quest for power could have led them to make such accusations against a President who, who amongst other significant achievements, has been praised for his handling of the insurgency in some parts of Northern Nigeria where he has used a combination of diplomacy and targeted military force to contain the security threat.
Nothing else but the relentless pursuit of narrow personal and sectional interests could lead them to make such claims about a President under whose leadership Nigeria's economy has been promoted from a low income economy to a middle income economy by the World Bank and whose leadership has seen the Gross Domestic Product of Nigeria increase at an annual rate of over 6% since he took office.
Finally, though President Jonathan has not indicated whether or not he is interested in a second term, Chief Akande, who has taken stock of his party and seen that they have no electable presidential material is already trying to be clever by half by claiming the President is statute-barred from contesting in 2015 saying it will amount to a 'third term'.