QUOTE OF THE DAY: New Artiste Instantly Want To Be Genevieve Or Omotola–Victor Osuagwu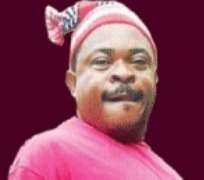 Yes, I came to Lagos to hustle. It took me six years to get a role that made me popular. It took me another 16 years to get me to where I am today. The problem with the young ones today is that they want to start acting today and instantly be a Genevieve or an Omotola. It is not easy to become a star. Out of a hundred, maybe just two will finally make it to stardom. Sometimes, you can act in a whole film and not get recognised, and you can act in just one scene and become a huge success.
>

Click the link below to go to...
You Lack Integrity To Abuse Senators-F​ans Blast Stella Damasus
(VIDEO) Condemns Child Marriage: Stella Damasus Spits Fire!
Omotola Says No To Girl Child Marriage
Charles Novia - 'GOD PUNISH YOU, SENATOR YERIMA'
Femi Fani-Kayode Replies Senator Ahmed Yerima On His Response to Underage Marriage.
SENATORS ARE OLODO'S , MUMU'S AND FOOLS- TONTO DIKEH SAYS.
ACTRESS MONALISA CHINDA SPEAKS OUT ON THE GIRL CHILD MARRIAGE BILL