Yobe State Empowers More Widows And The Vulnerable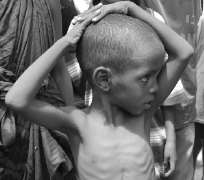 WOMEN, vulnerable people including widows and orphans in Yobe State went home with a smile on a day the state governor, Ibrahim Gaidam, launched loan packages and distributed items including grains for Women Economic Empowerment under the Subsidy Reinvestment and Empowerment Programme (SURE-P) aimed at cushioning their sufferings.
Among items distributed at the event were refrigerators and grinding machines.
In his address at the event that took place at Government House, Damaturu, Governor Gaidam said it cost the government N98.8 million to acquire the items. He explained that 2,710 people would benefit. "I want to emphasize here that this project is a practical demonstration of our efforts to empower our citizens and re-orient their psyche towards gainful self-employment. It is my sincere belief that an enduring Poverty Eradication Programme must be anchored on the people so that they will become less dependent on the privileged few and the government for the provision of most of their basic needs. This also conforms with our resolve and focus on teaching our people 'how to fish rather than giving them fish, thus making them dependent on handout.'"
The governor said it needed to take such step, adding "This has been and will continue to be the guiding principle and philosophy of our administration; this way we would rid Yobe State of poverty."
He also explained why the government considered distributing grains again this year. "As part of our commitment towards the welfare of our people under our laudable programme of strategic grains reserve this year, I approved the procurement of 12,030 bags of assorted grains at the cost of N100 million. Considering the high cost of the grains which is now sold at N8,000 per bag in the open market, we have approved that a bag be sold at N3,000 each for millet, sorghum and maize, subsidising by 60 percent. Out of the over 12,000 bags, we have 8,530 in stock, while the balance of 3,500 bags would soon be delivered."
He further directed the distribution to be as follows: "Each of the 17 local government councils would be allocated 300 bags of assorted grains for sale at cost of N3,000 per bag, Ministries, Departments and Agencies would be allocated 1,800 bags for sale to civil servants also at N3,000. A total of 280 bags would also be distributed here at the launching ground at the cost of N3,000, with 500 bags to be distributed to the less privileged in the society free of charge."
Commissioner for Agriculture, Idi Barde Gubana, lauded the gesture of the government, stressing, "launching of the sales of grains at this material time, is apt and could not have come at a better time."
One of the benefitting widows, Hajiya Fatima Musa, said: "I am short of words in thanking Yobe State governor, Ibrahim Gaidam, for his concern and care for us; this assistance will go a long way in alleviating our sufferings. I am going home with a happy mind; I lost my husband nine years ago, and life became horrible for me and the kids. I could hardly feed my family but today we have been empowered. I pray normalcy returns in the state so that he does more."
A physically challenged beneficiary, Malam Abba Alhaji, remarked that when the fasting month was conceived he never knew he would have the means to feed his family, but that the fear is now past given the intervention of the state government.
Speaking earlier, Commissioner for Women Affairs, Asma'u Kabir Kolo was particularly happy at the distribution to the women, appealing to the beneficiaries to make good use of what they received.