Lagos dumps 70 beggars, others in Onitsha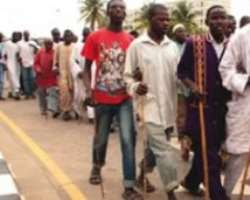 About 70 beggars and the homeless were on Wednesday dumped at the Upper Iweka Bridge, Onitsha, Anambra State.
It is believed that they were dumped by agents of the Lagos State Government.
The  destitute, who spoke to journalists on Wednesday, said  they were escorted to Onitsha and dumped  at Upper Iweka  by 3am.
According to their account, they had earlier been detained in Ikorodu, Lagos, for over six months for alleged wandering and other minor offences by the Lagos State Kick Against Indiscipline officials.
They were brought to Onitsha in four buses under watch by riot policemen.
One of them, Mr. Osondu Mbuto, from Ohaozara in Ebonyi State and a petty trader in Lagos, said he was arrested by the Lagos State Government officials while going to his shop on December 18, 2012.
Mbuto added that the Lagos State Government officials were in company with some policemen.
The Chairman of Nigeria Red Cross Society in the South-East, Dr. Peter Katchy, described the action of the Lagos State officials as condemnable.
He said, 'It's very deplorable; it's very disheartening that a state in the Federal Republic of Nigeria will bundle people, who are not even indigenes of Anambra State, and dump them under the flyover at Upper Iweka in Onitsha.
'Many of the people, we have interviewed are not indigenes of Anambra State. Some of them are from Ebonyi State; some are from Imo State among other states.
'It is an insult to Anambra State. We shall draw the attention of the governor of Anambra State to ask the reason for such an invasion of his territory.
'We will find out why Lagos State should invade Anambra State territory; and why Lagos State should dump people here and leave them helpless.
'We are here on humanitarian purposes and in response to an emergency. From  what we discovered here, this is a human emergency and a human callousness.'
Katchy, however, promised that the society would move the destitute to the Anambra State Social Welfare Centre in Onitsha South Local Government for rehabilitation.
The Lagos State Government had dumped another set of beggars at Upper Iweka late last year.
Calls made to the mobile phone of the Lagos State Commissioner for Information, Mr. Lateef Ibirogba, for his reaction, did not go through.
He also did not respond to a text message sent to him by one of our correspondents.