PROF SOYINKA GOT IT WRONG ABOUT THE FIRST LADY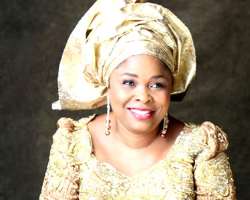 The last will and testament of the Swedish philanthropist, chemist, engineer and inventor, Alfred Nobel, established the Nobel prizes in 1895. These annual prizes are conferred on carefully selected individuals annually.
Those who win the Nobel Prize are recognized for their outstanding and exceptional achievements in a particular field of human endeavour. They must have contributed something extraordinary to advance humanity. The recognition not only confers immense honour and pride on the recipient, but also on the country the Nobel Laureate comes from.
In 1986, the Nobel Prize in Literature was awarded to Professor Wole Soyinka. Africa and indeed Nigerians at home and in the Diaspora radiated in the euphoria that their very own son was thus honoured internationally.
He stood tall like the iroko tree and became a barometer of our public conscious. Every syllable of his didactic statements, delivered in compelling oratory, has been embraced by his admiring listeners as the gospel truth.
It is therefore most unbecoming and highly disappointing when a public figure of the stature of Professor Soyinka chooses to comment on the pages of the newspaper or via a "state of the nation" address on the First Lady, Dame Patience Jonathan or indeed the President. He has done this without ever meeting the First Lady or any of her aids, to find out the veracity of his statements about Dame Patience.
In a state of the nation address Professor Soyinka gave on Thursday 11 July, 2013 in Lagos, the Nobel Laureate called on the President, Dr. Goodluck Ebele Jonathan, to call the First Lady to order for what Soyinka imagines to be "her over bearing tendencies." What a disrespectful and impertinent statement from an intellectual figure who should conduct himself in a much more dignified manner befitting of his intellectual and social standing.
An old Idoma proverb states, "He who has heard one side of an argument has heard nothing." Soyinka has not met or spoken to Dame Patience about any public issue to listen to her own side. Neither has he met to discuss with the President on the political developments in the House of Assembly in Rivers State, yet he sits on his high and majestic throne to pontificate to us and deceive us with statements embellished with innuendoes and insinuations guaranteed to fan disaffection. This is not the correct thing to do.
If Prof. Soyinka was really altruistic and had the interest of the nation at heart, he would seek for audience with the President to offer advice about the First Lady, or any matter worrying him in the manner a dignified intellectual of impeccable repute would do. He would not make public utterances is a publicity-seeking, self-serving manner he did in Lagos today (Thursday).
If he did not want to meet the President or the First Lady to offer personal advice, he at least should have had the moral grace to listen to the side of Dame Patience before his unbecoming attack on her. It is truly unfortunate when individuals like Prof. Soyinka, who we look to for ethical rectitude to guide us, lead us astray.
To say that I am disappointed with Prof Soyinka would be an understatement. He embarrasses our sense of national pride and decorum. How many Nobel Laureates have you seen casting aspersion or damaging remarks on the wife of the President of their country?
Free speech, Prof Soyinka, is your inalienable constitutional right. However, with that right comes responsibilities. To accuse the First Lady of excesses based on what you have read on the pages of the newspaper makes you an arm chair critic of the worst kind. You have a moral obligation to seek your information dispassionately and also verify them to be true, accurate and unbiased. You have a moral duty to offer advice to Dame Patience in an inoffensive manner, with dignity. What do you want the youths to learn from your tirades and outbursts? That it is okay to be disrespectful to the First Lady? Prof Soyinka, you really got it wrong. The decent thing to do would be to apologize to Dame Patience for your unwarranted and ill advised attacks on her. If you do have genuine advice for her, please do it in a sensible way that will not denigrate from the high esteem many hold you in as a scholar and as a gentleman.
Written By Ms. Joy A. Bello

Disclaimer:

"The views/contents expressed in this article are the sole responsibility of the author(s) and do not necessarily reflect those of The Nigerian Voice. The Nigerian Voice will not be responsible or liable for any inaccurate or incorrect statements contained in this article."
Articles by thewillnigeria.com