Atiku urges Boko Haram to embrace permanent peace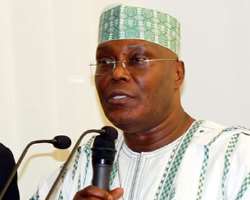 Former Vice President Atiku Abubakar has called on Boko Haram members to disarm totally and permanently in the spirit of the Ramadan fasting period, which begins  among Muslim faithful in the country today.
In a good will message to mark the beginning of the 30-day long Ramadan fasting by Muslims, the former Vice President appealed to the Boko Haram insurgents to permanently abandon any form of violence against innocent people.
According to him, cold-blooded murder of innocent people is against the teachings of Islam and, therefore, advised the Boko Haram insurgents to embrace peace, using the Ramadan season as the beginning of the end of their violence against defenseless victims.
He said Islam is the religion of peace and that violence cannot be a permanent alternative to conflicts resolution in society.
He, however, urged the Federal Government and the military to adhere strictly to international best practices and conventions on engagement even as it wages the war against the Boko Haram insurgents in the affected areas.
The Turaki Adamawa said enough blood of innocent people have been shed and urged the Boko Haram leaders to search their conscience and save the country any further deliberate destruction of lives and property.
Atiku Abubakar advised Boko Haram to embrace dialogue and disarmament to save the nation this needless violence against innocent people.
In the words of Atiku Abubakar, 'deliberate violence against innocent people cannot be justified under whatever circumstances and it benefits nobody. The Boko Haram insurgents should take advantage of this Ramadan period to end all forms of violence once and for all, and save us from this endless trauma."