OUR DIVERSIFICATION PLANS STILL ON COURSE – ADEBAYO JIMOH, GMD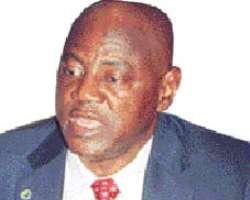 http://www.nigerianbestforum.com/blog/wp-content/uploads/2010/02/Jimoh-adedayo.jpg Adebayo Jimoh
To ensure that the group ranks among the leading conglomerate in the world, while boosting food security and sound health care for Nigerians, Odu'a Investment Company Limited will diversify into pharmaceuticals and agriculture.
The latest investment initiative was unveiled by the Group Managing Director, Mr. Adebayo Jimoh during an exclusive interview with Daily Sun in Lagos recently.
Specifically, he said that his organization was partnering the University College Hospital (UCH), Ibadan to have an intravenous fluid manufacturing company within its premises. Already, the Group said it was working with an American company to commence full-scale production of pharmaceuticals, and intravenous products, which was considered a growth sector and is subsequently moving into it to provide more empowerment and a healthier environment.
Jimoh explained that research has revealed that most of the intravenous fluid used locally are probably not too good for her people, hence the need to standardize them in order to ensure safety.
On agriculture, the Odu'a boss stressed that, the desire to support the Federal Government's food security and sustainability initiative informed the decision of the conglomerate to consider the option of going into agriculture.
With respect to oil and gas sector investment, Jimoh said Odu'a will go into service support level.
According to him, oil and gas is a very capital intensive sector, stressing that one of its subsidiary companies, E&O Equipment Leasing and Servicing established two years ago will go into the area of providing back up services for the industry with the supply of equipment as well as agro-allied equipment servicing and maintenance.
Exerpts
Efforts to reposition Odu'a
I would say it has been essentially more of work in progress, especially in the last two years, because we have been redefining our business focus. But in terms of what we have been able to do in the last two years, I would say that we have been able to fully privatise Askar Paints which is one of our subsidiaries.
Askar Paints was operating at a loss, but we saw the need to enlarge its capacity utilization, hence we divested 70 per cent of our equity to Eldabarto and Company Limited, which is operating in the building sector, believing that with their group work which includes Costain West Africa Construction Plc, they would be able to utilize a lot of our products.
Again, we identified the need to enhance capacity building, especially for the Yoruba in the organization. And that prompted us to establish two Farmers' Academies, to train young school leavers in commercial agriculture and also to create avenue for the sustainability of the Federal Government's Food Security Programme. And these farmers' academies are called Odu'a Farmers Academy located in Awe, Oyo State and Ede, in Osun State.
The other activities that I would put as work in progress, is our desire to ensure that our telecommunications company gets back to business. And we have been discussing with an international partner in the understanding that telecommunications is a very capital-intensive venture.
If you have a capital-intensive company, you can only make progress by looking for people that have three things; including the financial muscle, technical know-how and the human resources. And all these have been identified in Princeton Telecommunications, which will finally take us to the point we want, while also creating massive avenue for O'net to get outside the South -Western states. These synergies will be managed by Princeton Telecommunications.
Investment in Wema Bank Plc and other financial institutions
In the financial sector, you would recall that Odu'a Group was once a dominant player in Wema Bank, but in line with the Federal Government policy that directed Odu'a being a quasi-government outfit not to have more than 10 per cent in any financial sector business, we complied by reducing our stake in the bank.
Based on that directive, we divested our equity of about 47 per cent from Wema Bank to 10 per cent
We did it by selling our shares to high networth Yoruba who came together under a group called the SW8 to take majority equity in Wema Bank. Maybe that was one of the reasons Wema Bank survived the recent CBN reforms.
Similarly, we did the same for Great Nigeria Insurance Company, which is also a financial institution. One other thing that I believe is very significant, but which we have been unable to achieve and it keeps bothering me is the need to get our real estate business in top form.
However, we have made it possible for people to know that it is practical to redevelop properties and in this regard, we have two pilot schemes; one in Lagos, where a three bedroom apartment in Lugard Street, Ikoyi was pulled down to pave way for the construction of six apartments.
From the point of economy of scale and in terms of revenue generation and value added, we have been able to create that value by turning a common three bedroom apartment in Ikoyi to a six bedroom apartment.
Besides the Lagos redevelopment, we also came to Ibadan in Oyo State to do the same at Iyaganku Estate. For that, we had a building of three-bedroom apartment on a land mass of 5,000 square meters, where we were taking just about N200, 000 per annum.
But we pulled it down and commissioned an estate called Orange Courts, where we had 12 apartments. For each of those apartments, we take a rental of N1 million per annum, and this is good business for the company.
But some people have questioned why we have not continued in that line
As for now, we have done residential in commercial aspect, as Odu'a is brining into the South West, the biggest and most modern shopping mall, which is presently under construction.
Other efforts to revamp ailing companies in the group
The former Sketch Newspapers premises that has been abandoned for 15 years and unfortunately Yoruba kept looking at the building located right in the heart of the Central Business District (CBD) in Ibadan, Oyo State, with no one thinking of doing anything about it.
But we have looked at the options available and decided to put up an edifice called Heritage Mall, where construction work is ongoing now, and by the grace of God, the contract which is expected to be completed in fifteen months with five floors and 200 underground parking with modern shops, will pave way for this generation to have modern places for relaxation, shopping and activities.
In a nutshell, these are some of the things we have concentrated on in the last two years. And this is aside training of people. I can tell you that, right now, we have intensified our training programme alongside our Corporate Social Responsibility. In the last two years, we have also awarded over 400 scholarships to Yoruba's in various universities across the country. And I can also say it boldly that Odu'a scholarship is the best in terms of the amount we pay to each student, which is even comparable to those paid by banks.
Succession plan in the Group
Again, we are also planning ahead in terms of succession because I am not going to be in Odu'a for life. So, in the middle level cadre, we have just started a programme called Graduate Management Recruitment, where we have brought in brilliant indigenes that must have a minimum of second class upper division (2:1).
Though, we also have first class graduates amongst them. For now, they are undergoing a six months training programme. These are the people that will take positions of pride in Odu'a in the nearest future.
Funding arrangements for Odu'a projects
Earlier on, I talked about pilot schemes. For whatever we want to do in terms of Public Private Partnership (PPP), we want to prove to our partners that it is possible.
The programme on real estate development is a growth sector that we have just identified.
What we have done is that since we have been able to build one, the other people that are coming along with us would find it easy to fall in line. We have done our own, and we have had a standard, basis, format and structure to repeat the process in other places.
For now, we have signed a Memorandum of Understanding (MoU) with some private property developers, while telling them what our model looks like.
So, under this PPP arrangement, all we do is to provide the private sector partners with land. And when they finish building, we agree on the sharing formula. But we would not want a situation where private operators will come to us and say some things are impossible. If this is said, we will shock them because with our own funding, we will let them know that we have done it.
Even for the ones we have built, we do not owe the bank a penny. What we did was to take some equity loans from the bank. Out of the 12 we built, we sold six outrightly and used the proceeds to pay off the loan we took from the bank. So, we are still left with six that belong to us and equally generates funds to the coffers of the company. So, this is to tell you that we are very much at home with the PPP arrangement.
Also, in our other companies, especially our manufacturing outfit, we have gone into PPP.
Earlier, I had talked about what we did in Askar Paints. And our idea in Askar is that, the company that bought into it are into related field of the construction industry. We are not going to sell a paint manufacturing company to a bank because we are not going to get the value. But when you go into equity partnership with a construction company, what one has simply done is the creation of synergy because most of the things that would be manufactured already have a market.
Besides, we are also scouting for technical partners for our Iree Brick Company in Ekiti State, who will operate solely on PPP basis because we have discovered that whatever is government belongs to nobody. And it's usually grossly mismanaged. So, for us at Odu'a, it is our believe that it is better to have 10 per cent stake in a good company than have 100 per cent stake in a rubbish company.
In a nutshell, the PPP is the standard format. But, we always want to prove to people that we want to partner that, whatever they can do, we can as well do it. But we are only bringing them in to enhance profitability.
For our hotels, we have identified the need for branding. Unless these hotels are branded internationally by international chain, we would continue to be in the very low boutique hotel segment. And our hotels are located at prime property locations like, Ikeja, for the Lagos Airport Hotel and Ibadan for Premier and Lafia Hotels. And that is why we are partnering international companies who will bring fund and at the same time take equity and subsequently run the hotel with their international brand without Odu'a losing the ownership because we would just be part owners other than being full owner and generating nothing.
On our real estate sector, which is Wemabod, that is also going to be our approach. Ditto for Cocoa Industries. So, we are open to PPP to come on stream.
Strategies to enhance standards at Lagos Airport Hotel (LAH), others
The MoU we signed with Golden Tulip Hotels to turn around Lagos Airport Hotels and other hotels in Ibadan had a clause of Odu'a providing the funding needed for the turn-around. Golden Tulip was only interested in being the managers of the hotels, but what they said was that they are an international brand that doesn't fund hotel construction.
But Odu'a as a company could not get the funding for the renovation and reconstruction of the hotels to the standard that Golden Tulip will now be able to put their name on it. So, we went back to them to tell them the problems we encountered because we were looking for alternatives. But the alternative is for us to look for an international company or a private partner that can do both; provide the funds and also manage the hotels. And that is what we are doing now, believing that sooner than later, we should be able to get that behind us.
However, because Odu'a is such a sensitive company, even if it is not a sensitive company, whatever is being done must be done in a transparent manner, while also following due process and ensuring that the I's are properly dotted and the T's properly crossed. And that is why we have appointed seasoned financial advisers and sound legal team to help us in the negotiations. And the negotiation is going on right now with another chain.
The problem with Odu'a investment
The problems confronting Odu'a can simply be linked to people's attitude to work, alongside the perception of the business and passion for it. I have a benchmark. Let me just use Nigerite as a benchmark. Odu'a has 40 per cent equity in Nigerite. In WAPCO Cement, Odu'a also has substantial equity. But if those companies had been managed by our people, the attitude, passion and perception they would have put in those companies would have made the companies not to be in existence by now because they would believe that, it is still government business. And government has no business in business.
I can tell you, that right now, what we have been doing in the past two years is to gradually reduce the influence of Odu'a as a company in our subsidiaries. Let me give an example; when we came on board four years ago, we met Nigeria Wire and Cable under lock and key. It had been closed down with over 194 workers sent home. We did our diagnosis of the problem and we discovered that it was centered on the attitude and passion of our people. And we now said, for us to go ahead with this company, we will look for a private technical partner. And we got one that invested in the company, while also running it at the same time, with the agreement that Odu'a management will stand out. That is; the government board and politicians who will have less or no role to play in the affairs of the company.
I am not a politician but a technocrat. And as at now, the company is doing well and back on its feet. Their products are already there in the market. And all they are trying to do now is to create a better feedback for their customers, to enable them recall the good image of the product which used to be the best wire and cable in the country, but because it was scarce and out of stock, people started adulterating it.
For instance, we have reduced our stake in Wire and Cable that was fully owned by us down to just 17 per cent and we are happy for that because we are going to get dividend.
Just like I said earlier, we are planning same for Wemabod because right now we are changing its management through the injection of seasoned professionals. We are not just going to stop at that. We are also going to look for private partners who will put down their money and expect returns on it. They will not be the only ones to take returns because we will still have equity on it and equally get better returns.
But, if we go the way we are going now, one day, we will wake up and there will be no business for us to own anymore.
So, it's people, attitude and passion. And these are things that must be really tackled by everyone. Though, it's a big battle. But we are going to win it because already two companies, Askar Paints and Nigeria Wire and Cable have been fully privatized.
Plans for diversification
For now, we are on the verge of partnering UCH. We have been able to identify an investor with whom would want to go into the production of pharmaceuticals, like; intravenous products.
We are doing this because we always identify growth sectors and subsequently move into sectors that can provide some empowerment, while also creating a better environment for our people. So, in UCH, we are going to have an intravenous fluid manufacturing company in partnership with an American company.
Our research revealed that most of the intravenous fluid produced in the country at the moment are probably not too good and there is need to standardize it.
And I am happy to say that UCH is happy to work with us because if that plant is under the supervision of the teaching hospital, they would be able to provide standards and quality control. So, we are working in that direction. Again, another major area we are also diversifying into is agriculture. This means that most of our old farm settlements will have to come back on commercial basis.
We need the resources, including people who will work on these farms and that is why we have set up the two Farmers' Academies opened in October last year. Students are preparing to graduate by the end of the year and most of them will move to the farm centers, as we intend to support them with modern agricultural equipment.
So, our growth sectors are mainly in the pharmaceuticals, agriculture and the real estate. On oil and gas which is another capital intensive sector, I am pleased to reveal that, about two years ago, we established a company called E&O Equipment Leasing and Servicing. It has been growing and has also become profitable. That company will go into the area of providing back up services for the equipments needed in the oil and gas industry as well as agro-allied equipment servicing and maintenance. Those are the things we are looking at for now.
Operational challenges
Challenges are usually global in nature. But the ability to manage through that period is a function of strategy. And what we essentially view as key challenges are issues associated with perception of people to businesses that are government owned. We have also identified the attitude of people to whatever is the business of everybody.
So, we are narrowing down these areas to the extent that Odu'a would become purely an investment company, where we would identify investment profile, get into it and give them out to those that can run them and make them profitable. The money we make from our associated companies overrides all the money that we make from those companies that we run. And if you have the statistics or data, all that you need to do is to take some financial issues out of that. And the financial numbers show that a lot of wastages, shrinkages and mismanagement go on in companies that are associated with government.
Whereas in companies that has standards and corporate governance, things are properly done. And this is a major challenge. But we are putting in place good corporate governance practices and best international business practices. Even for financials from banks or international financial institutions, your risk factor is higher if you are purely a government agency. And this is not what we want to continue to have as a challenge. We want to see it as just an issue to be addressed, and we are addressing that.
Plans to operate O'net on the GSM platform
O'net had a regional licence. And with regional license, you can hardly grow because it is heavily dependent on your subscriber base. You must have very high level of subscriber base of a minimum of five million people to make profit.
Again, there is always the need for you to get your customers to be able to use the phone reasonable in very key areas of the market. But as at now, O'net can only be used in the Odu'a states of Ogun, Oyo, Osun, Ekiti and Ondo. Anybody coming to Lagos will drop it, so why should he keep it? And that remains a constraint.
Based on these shortcomings, we decided that whoever that must be our partner must have a national license. And the investor that is coming in now has been able to identify a source for the national license.
Talking about making foray into the GSM market, the GSM, it is not because we can likely we will get the GSM licence. And even if we have it, GSM is too competitive. I think CDMA might in the future take over from the GSM.
Currently, our subscriber base on the O'net CDMA platform, which was launched in 2006, is just about 50 customers but this is likely to grow in the next few years as we progress.
Support from Odu'a owner states As Odu'a, we do not receive financial support from any of the Odu'a states. Rather, we pay dividends from the profit generated from the various arms of businesses we are into.
Again, you need to know that the owner states are investors in Odu'a. However, in terms of socio, political and economic support, we get very strong support from the owner states because they are always ready to go with us and support us whenever we have challenges alongside patronizing our products.
They are committed and always very loyal to our products. And like every Yoruba son and daughter, they like to be associated with Odu'a.
As at now, Cocoa House in Ibadan is undergoing massive renovation and soon we will have jingles on brand new lifts installed at the complex, including new 850KVA generators, boreholes and massive parking lots to ensure that we get high-level occupancy.
The lifts are almost ready now and we had a test ride in them about two weeks ago.
Human capital development in Odu'a In addition to the normal training that we do, we are now bringing fresh graduates into the company who are well-trained and with innate intelligence to drive the business of the company in future.
I am not talking about academic intelligence because with inmate intelligence, you keep on growing. We are also bringing into the company people from other private sector institutions and putting them in middle management positions.
Besides, we are no longer employing based on any consideration other than merit. And we are also ensuring that our staffs have what is called job rotation, meaning that people can now move within the different departments in the head office and the subsidiaries.
I also said earlier that we award scholarships to our Yoruba sons and daughters in universities to ensure that we have high level capacity to take over from us in future.