NIGERIA – Tsunami of corruption, docility and stupidity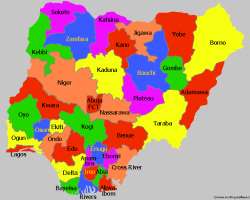 Good Morning fellow countrymen. Permit my reminiscences about a land I left behind so long ago. Permit my tears and frustration about a country I love and cherish so much. It is early morning but do permit the expression of my frustration about my fatherland. A land where hope has been dashed and where progress has been put asunder. Permit me to air my frustration about a land that pushed me so far away. I am lamenting about no other than my country, Nigeria.
True, there is no place like home. No matter how sweet the journey may be and no matter how successful the itinerary may turn out to be, the lure of home surpasses it all. I have travelled to the East and I have been fortunate to live in the West, yet the attraction of home surpasses the strength of the magnet. Home, sweet home.
I have always been adventurous all my life. Even with little in my pocket, I found the attraction of visiting unknown places irresistible. I had my bags packed, ready to move at the drop of the pin. I lay at nights dreaming, dreaming of faraway places. My dreams were filled with adventures. I dreamt of foreign lands and cultures. The wish to journey far and wide became almost like a liquor, an intoxicant that holds me spell bound. I became a slave to an uncontrollable desire. My obsession started such a long time ago that even now, I find it difficult to put a timeline. I remember in those days wishing to just be on the move with each prolonged vacation at the secondary school. I remember the day I packed my bag, having convinced my parents to allow me to travel to Warri to spend a couple of days with my father's friend. It was in those days when there was nothing like cell phone. It was the era of 'telephone is not meant for the poor'. I had written a letter weeks before my departure to my father's friend. But true to the nature of things then, the letter only arrived after I had departed Warri. So, I arrived to the utter consternation of the family who had no inkling of my plan!
I was born and bred in Lagos. My entire childhood and adolescent was spent in the old city. My itchy legs however refused to be confined to the many limitations of Lagos. My tertiary education also provided an avenue to move out, hence I chose Ife. I traversed Ibadan to get to Ife and here my first education about my ethnic background started. It was stupefying being in a city where over 90% of residents had tribal marks! This became a pattern for my close to a decade stay in the old Oyo State. The ancient city was also a leeway to explore the inner parts of Yoruba land and witness first-hand the ancient richness of my progenitors. Ile-Ife offered me a direct glimpse of the historical tales I had learnt with early education. I skipped over fences and penetrated fallen walls to witness the ancient practices of core Yorubas in Ile-Ile. I saw beads of their different glory at Ife Museum. I also purchased many. I fell seriously in love with beads. I also saw many crafts that bore testimony to the ability of this ancient tribe.
I covered the then old Oyo State extensively. I vividly remember my first visit to Ilesha, a place that I would share as home with Ile-Ife for about 4 to 5 years. Here was this majestic beauty with stupendously rich sons and daughters. Here was a fantastic city with houses of unsurpassable beauty and attraction that words cannot completely describe. Ebenezer Obey completely encapsulated the resilience and industry of the Ijesha people with his evergreen words - 'ka kole ka ra moto, Ijesha lo ni iyen'. A city that produced the likes of Ajanaku ('ti imi igbo kiji kiji'), S B Bakare, Lawrence Omole, etc. A city almost without blemish except one. I would never forget the indelible experience Ijesha afforded me. I grew up in Lagos where prisons are not common place. Of course, I am aware of the existence of the famous (or infamous) Kirikiri Maximum Prison, but then you have to take the pains to travel to where this is located in Lagos, unless you live around there or have other businesses to conduct around the place. At Ilesha, the story was different. This throw-back of modern existence was lying by the road side; a broad reminder of the legendary stubbornness of the Ijesha people. An unbelievable tale has it that the then king of Ilesha chose this institution over the provision of railway services for his people as he believed that this remained the only mechanism that can curtail the ferocity of his people's stubbornness. No disrespect to the ancient and lovely Ijesha people though! Nle Awe! Iyan Orire, Oka Orire!!
I remember with nostalgia my years at Ilesha. Imo area was my home and my territory. I explored the town ferociously. Bolounduro, Okesha, General, Wesley Guild hospital and so on were play grounds. I made friends and partook of the warm Ijesha hospitality. I still retain vivid memories of those days. My abode was Ajanaku Quarters behind Highway Hotel in Imo. College of Education, Ilesha was a fertile ground to ake friends and meet new friends. I keep wondering what has become of these friends Life rolls on!
I visited Ede, Oshogbo (where we paid homage to Susan Wenger (Adunni Oloosha). The Osun River was fantastic and Ede was truly beautiful. I used these areas to explore other land marks and traversed the boundaries to reach places like Akure and even Ado Ekiti. I cannot just gloss over the import of Ado Ekiti to me and millions of Yoruba people, courtesy of the late Colonel Adekunle Fajuyi. A brilliant Yoruba Officer who took courage and gallantry to another height in the murderous history of the Nigerian nation. I paid tribute to the memory of Colonel Adekunle Fajuyi, just as his remembrance spurred that of another fine Yoruba Officer whose role in the Nigerian Civil War has not been factually enumerated. I also remember Colonel Victor Banjo and pay homage to his beautiful memory. May light perpetual shine on them all.
The 'Omo Oloja' remain a cultural attraction to the rich heritage of the Ado-Ekiti people. These are the children of the reigning Ewi of Ado-Ekiti. In all honesty, the 'Oja' (female kids) are truly beautiful indeed. I also explored the Yorubas even in the diaspora within Nigeria itself. I visited Ilorin and passed through Kogi. I passed by the famous confluence at Lokoja. Yoruba land is indeed wide and beautiful. It is esoteric in conception and discerningly puzzlingly. It is a land brimming with knowledge, especially of the esoteric kind, yet it is a land mired in deep rift and confusion. It is a land that has great potentials, yet one fettered in dishonesty and betrayal. Yoruba land is the wide world and it is the village. It is open and at the same time secret. It is the cosmogony and yet the smallest hamlet imagined. It remains a mystery for even the most ardent scholar.
My restless legs took me beyond the confines of Yoruba glory. I have over the years travelled East, West and North of Nigeria. I have crossed the River Niger to visit my friends and brothers from the Eastern part of our wonderful country. I have witnessed first the entrepreneur and financial acumen of my Ibo brothers. Their commercial sagacity is a virtue that should be stupendously harnessed by any wise nation. I have, sadly, also witnessed the horrendous damages caused by erosion in the East of Nigeria. I saw the impact of shrinking land mass and its consequent effect on a dynamic people. I tasted of Ibo warmth and hospitality and to date, cherish my association with my Igbo brothers and sisters.
I have also crossed the divide to visit Northern Nigeria. The 'North' like our puerile politicians would call it. My unique reminiscence of the North begins with the different smell, look and feel of this rather challenging part of our federation. The North indeed smells different and looks and feels different. We set sail from Lagos in the night to get to Kano early in the morning. I had dozed off in the vehicle but woke up somewhere around Lokoja when I began to smell something different. Welcome to Northern Nigeria! I traversed the vast landscape of northern Nigeria by road from Kano to Sokoto. Assa-la malei-kun!! I saw the Alamajiris, a festering social sore that bestrides the length and breadth of Northern Nigeria. The abandoned street children, a potential army of social destabilisation and disharmony!
I saw the impact of encroaching desertification, vast expanse of land with scanty houses and population, yet the mighty North remains the most populous in our federation, thanks to hypocritical British colonialists. I saw round huts with 'Ba Siga'. I saw women with painted feet and hands, albeit Islamic tradition. I ate 'Tuwo' in different flavours till I got tired. I visited Argungun and went to Zamfara. I was there when Gideon Orkar (*of blessed memory) launched his coup d'etat. I learnt a lot about the culture of this ancient people. I was forced to learn passable Hausa as 'Turenchi' would not get me anywhere. How proud the Hausas are about their culture. But the heat, brother! I saw sunshine at 5.00 a.m. and by mid-day, the heat was scorching. I would never forget the day I was convinced that the sunshine in the North must have been nothing but fire from heaven. My only regret is that I never visited Jos. Perhaps, it would have been cooler!!
I started this piece as a recollection of my worldly travels but ended up with pages of my experience in Nigeria alone. My other sojourns would have to wait for other times and moments. Suffice it to say that I am a proud Yoruba man, born and bred in a country called Nigeria. I am a proud Nigerian who have by virtue of birth, upbringing and life experiences removed the shackles of ethnic affiliation to come to an understanding of the unity of all. I am a proud Nigerian who sees the benefits in the corporate existence of this great nation. I am a firm believer in the abundant benefits of our great nation as one entity. I am a Nigerian troubled by the deficiencies so far glaringly manifested by my desire and wish. Nigeria today remains a cataclysm, an abject failure and joy killer. It remains a ghost of its potentials after several years of continuous pillaging by all and sundry. It is a country in the midst of a corruption tsunami. The phenomenal impact and socio-economic damages induced by the monsoon of corruption and bad leadership on our beloved country bring tears to my eyes.
I grew up in a Nigeria that witnessed a civil war. My childhood recollections of the civil war is a story reserved for another day. Over the years, I have witnessed turbulence and catastrophe in the land. I had hoped for a country that would epitomize peace and respect for its citizens. I had hoped that over the years, Nigeria would get its acts right. I had waited to see development and progress. The futility of my hopes aggravated my wandering legs. I defied 'Andrew' and joined the bandwagon of exodus. Here I am in a foreign land. Still, I longed for the land of my birth. I longed for MY COUNTRY. I have endured tribulations in my journeys. I have witnessed first-hand racial discrimination and discrimination of all sorts. I have endured as home is no longer home. Our country has become a ravaged land, taken over by a swarm of locusts in the garment of indecisive, murderous and visionless leadership.
The day is coming to an end and the sun is receding pretty fast. Night is falling and the future looks bleak for Nigeria. In the midst of agitation spreading like wildfire in the Arab world and sporadically in other places, Nigerians remain placid and bemused. We continue to tolerate irresponsible leadership and continue to eulogise an opposition that has nothing spectacular to offer. I remained baffle by a country that can be so docile in the face of unprecedented abject poverty and unhindered suppression and political injustice. A docility that has gotten to the pint of stupidity.
Who will save Nigeria?
Disclaimer:

"The views/contents expressed in this article are the sole responsibility of the author(s) and do not necessarily reflect those of The Nigerian Voice. The Nigerian Voice will not be responsible or liable for any inaccurate or incorrect statements contained in this article."
Articles by Olusegun Fakoya, Dr