2015: Tambuwal Decries Party Autocracy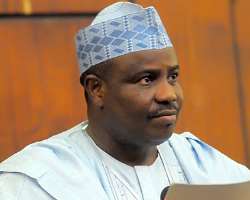 SPEAKER, HOUSE OF REPS, HON. AMINU WAZIRI TAMBUWAL
ABUJA, June 25, (THEWILL) – Speaker of the House of Representatives, Hon. Aminu Waziri Tambuwal, Tuesday, flayed what he described as the emergence of autocracy in the politics of the country.
Tambuwal, who made the observation in his speech to welcome lawmakers from their recess and also mark the beginning of a new legislative year, also decried what he called the emergence of cartels bent on causing disaffection in the polity.
He said the country is witnessing the emergence of a new group that is "championing the obnoxious cause of the deepening of internal party autocracy and demagoguery."
The cartel, according to him, was promoting doctrines capable of fanning the embers of hate and strife in the country.
"The proponents of this shameful doctrine not only offend our sensibilities, they constitute an affront on the whole essence of democracy and civilized coexistence and must be halted before they do incalculable damage to our polity," he said.
"Preparatory to 2015, many have started introducing political doctrines that are alien to democracy and destructive to peaceful social co-existence in a civilized society, they are busy fanning the embers of partisan hate and strife.
"According to this new doctrine, it is a political offence for a member of one political party to exchange greetings with someone in another political party. It is indeed a heinous crime for one to visit, attend the burial, birthday, coronation, wedding or any such ceremony of someone in an opposing political party. My dear colleagues, we refuse to be students of this school of thought," Tambuwal said.
According to him, dissent was a healthy element in any democratic setting and pointed out that those who equate loyalty to "sycophantic followership" not only miss the point but put democracy at risk.
He advised politicians to refrain from political campaigns and await the Independent National Electoral Commission (INEC) approval, even as the 2015 elections gather momentum.
He disclosed that the House will soon suspend plenary and embark on oversight of the 2013 budget implementation.
He also assured that as the Chamber commences the second half of its tenure, "we must sustain our focus on the ultimate objective of dealing decisively with unemployment, poverty and insecurity."
On his election in 2011, Tambuwal said "It was a decision about institutional self-identity, not of selfish individual aggrandizement."