Jonathan Congratulates New TUC President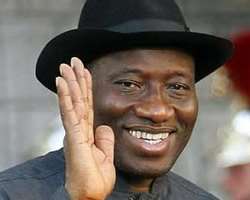 President Goodluck Jonathan congratulates Mr. Bobboi Kaigama of the Association of Senior Civil Servants of Nigeria on his election as President of the Trade Union Congress (TUC).
The President welcomes Mr. Kaigama's declaration after his election that the TUC under his leadership will work with  government and private sector employers for the benefit of workers and all Nigerians.
President Jonathan and the Federal Government look forward to working with Mr. Kaigama and his new team at the helm of the TUC to fulfil this commitment and enhance cordial industrial relations in Nigeria in furtherance of the present administration's agenda for national transformation.
The President believes that with Mr. Kaigama's notable antecedents, excellent credentials as a labour leader and experience as President of the large Association of Senior Civil Servants of Nigeria, he is fully equipped to succeed as President of one of the two major conglomerations of trade unions in the country.
He extends his best wishes for a fruitful and successful tenure to the new TUC President.