Madalla Blast: You Have A Case To Answer, Court Tells Kabiru Sokoto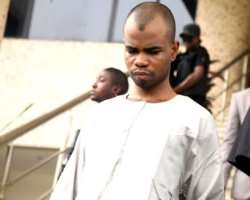 KABIRU SOKOTO, ALLEGED MASTERMIND OF THE 2011 MADALLA BOMBING IN NIGER STATE
SAN FRANCISCO, June 21, (THEWILL) – The attempt by Kabiru Umar, alias Kabiru Sokoto, who is facing trial for allegedly masterminding the 2011 Christmas Day bombing at St. Theresa Catholic Church, Madalla, Niger State, to stop his trial has suffered a defeat.
Justice Adeniyi Ademola of the Federal High Court Abuja, who dismissed the no-case-submission made by Kabiru Sokoto on Friday, ruled that the prosecution had established a prima facie against the accused through the evidence brought before the court.
"The court having held that a prima facie case has been made against the accused person, his no-case-submission fails. In the circumstance, the accused person has a case to answer. He is hereby called upon to open his defence," Justice Ademola ruled on Friday.
It would be recalled that Kabiru Sokoto had, at the completion of the prosecution's case on May 16 , argued that no prima facie case was made out against him and asked the court to discharge him.
His lawyer, Ibrahim Umar , had in his submission on June 14 argued that the prosecution failed to produce sufficient evidence to link the suspect with the charges of terrorism levelled against him.
He therefore asked the court to discharge and acquit him. He also argued that the proof of evidence before the court did not link his client to the crimes alleged against him. He contended that the evidence so far led by the prosecution failed to establish any offence against his client.
He further argued that the evidence by all the six prosecution witnesses amounted to hearsay and urged the court to disregard it.
But following Friday's ruling, the defence has indicated its intention to call seven witnesses while the court has adjourned to July 5 for the suspect to open his defence.
Praying the court to dismiss the two-count charge preferred against the suspect, the defence counsel had also contended that while the state accused him of "facilitating the commission of terrorist act by planting and encouraging some boys (now at large) at Mabira Sokoto, in Sokoto State with the intention to bomb the police headquarters and some other government agencies in the state", the government failed to bring any of the boys he allegedly planted and encouraged to testify against him.
But prosecution lawyer, Mrs Chioma Onuegbu, in her counter submission, argued that the state had sufficiently made out a prima facie against the suspect. Onuegbu asked the court to discountenance the defence counsel's submissions.
"It is my humble submission that, based on the testimonies of PW1 and PW2, and the exhibits before this honourable court, that there is a prima facie case against the accused person that calls on him to give an explanation.
"At this stage, the credibility of the witnesses does not arise, the weight to be attached to the witnesses does not arise also," Onuegbu stated.