2015: APC Set To Wrestle Power From PDP, Says Okorocha …Mobilizes South East Zone For Party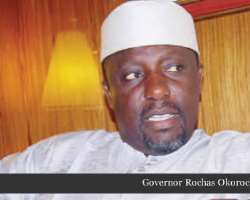 Imo state governor, Owelle Rochas Okorocha has declared that the newly formed All Progressives Congress (APC) would wrestle power from the ruling People's Democratic Party (PDP).
The governor made this declaration when he played host to the leaders of the merging political parties from Enugu and Ebonyi in government house, Owerri.
He described APC as a child of circumstance following the desire of Nigerians to reap dividend of democracy in the country. 'APC is a product of yearning for a change that will bring about true democracy in the country. It is a fact that PDP has failed the people of the south east and Nigerians and that largely informed this mission of providing a credible platform that will form an alternative and acceptable government to the PDP'.
The governor explained that APC is neither an alliance nor acoalition, rather a merger that is born out of genuine concern of progressive Nigerians who are committed to take the country to the next level.
Gov. Okorocha averred that PDP has failed the country and continued to deny the Igbos their right place in the scheme of things, describing as a clear case of marginalization where an Igboman is not occupying any of the principal positions as President, Vice President, Senate President, Speaker, House of Representative and the Chairman of the ruling party. He therefore advised the people to be courageous, focused and resolute; assuring that APC would be registered despite plot by some PDP forces to thwart the registration.
Speaking earlier, the leader of the Enugu delegation, General Joseph Okoloagu rtd, said that they were in the state to show solidarity to the governor for his landmark achievements in infrastructural development and free education amongst others.
'We, the political leaders from the opposition parties from Enugu state are looking forward to your encouragement and support; we have come to identify with you and solicit for your support to build APC in Enugu state'
he said.
He described the governor as an epitome of good governance and true leadership whose capacity to lead the Igbos is clearly not in doubt.
The Ebony delegation led by Chief Ben Nwaobasi, said that his team was in Imo state to pay a solidarity visit to Gov. Okorocha for his exemplary leadership for Ndigbo, and to solicit his support for the success of APC in Ebonyi state. They urged the governor to contest for the presidency of the nation come 2015 to fill the political vacuum in the south east and Nigeria.