Bush Assures Jonathan Of Support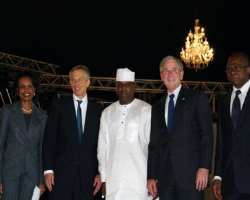 PHOTO: L-R: CONDOLEEZZA RICE, TONY BLAIR, HOUSE SPEAKER BANKOLE DIMEJI, GEORGE WALKER BUSH AND OJO MADUEKWE AT THE 15TH THISDAY AWARDS IN ABUJA.
Abuja Feb 21, (THEWILL) – Nigerian Acting President Dr. Goodluck Jonathan heard on Sunday that he has world support in the discharge of his duties as Acting President of Nigeria.
United States 43rd President, George Walker Bush made the declaration when he paid the Acting President a visit at his Akinola Aguda residence in Abuja. Bush was accompanied by former US Secretary of State Condoleezza Rice and US Ambassador to Nigeria, Robin Sanders.
Just like Tony Blair, Bush and Rice are in Nigeria for THISDAY Newspaper's fifteenth Awards night in Abuja.
Though Bush acknowledged the circumstances that brought the Acting President to his current office, he said, "Sometimes in life, the unexpected happens. We wish you all the best, even though we know it is not an easy job. With God's grace and the support of your team, you will succeed."
While thanking the former president for his visit and support, Dr. Jonathan promised that the 2011 elections would be credible adding that he would do all within his ability to ensure that the elections are free and fair.
"I can assure you that come 2011, Nigeria's elections will be credible, we will do everything possible to over haul the electoral process," Jonathan assured.
Jonathan also called on the US government to remove Nigeria from the list of countries with ties to terrorism noting that "terrorism is alien to Nigeria."
In his response, Bush urged the Acting President to engage the US government on the issue and assured that the US government would delist Nigeria after both nations engage in diplomatic talks.
|
Article source