Meet Jumoke Ayadi...The big, bold and beautiful actor with a welcoming smile...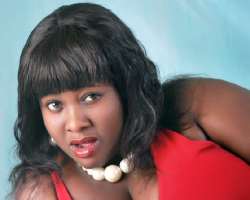 Jumoke Ayadi is an actor, Business Woman, CEO Jays Dreams (Bar and Unisex Boutique including Kids wear) situated in Surulere. She is a graduate of Yoruba from the Obafemi Awolowo University Ile Ife,(ACE Chapter) Nigeria.
She has always had the strong passion for acting since her childhood, she wasnt able to get into the industry but she got lucky in November 2011 when she followed her fried to an audition and got a role in the award winning movie, 'Married but living Single', it was shot in January 2012 and Jumoke hasnt slowed down ever since.
She has featured in several movies and TV series since then, some of which includes: New Village Headmaster, Squatters, Married but living Single, Centrufugal, Love in the Slum, Bella's Place, Mama Africa, In the Music, Hackers, Heaven's Hell, Family Business, just to mention but a few...
Jumoke describes herself as beauty with brains, she is big, bold and beautiful, she claims the entertainment industry believes in slim girls but she get the roles she plays because of her plus size and that alone makes her very confident. She is hardworking, focused, a goal-getter, down to earth, time conscious and humble lady
She says she loves acting, so she always strive to give her best performance even at auditions which explains why she always gets every role she auditions for atleast 85% of the times.
She believes her body size is a blessing to her and gives her an advantage over a lot of people and she also have a baby face meaning she automatically gets diverse roles both matured due to her size and carriage and young roles due to her facial looks.
She loves making friends especially those that will add value to her life, jisting, listening to misic, she likes real people and hates lairs.
Her dream is to be a bigger and better person so she can help the less privileged and give a helping hand to people that needs a push so the world would be a better place with happy people...