I Don't Have Time For Marriage But My Album--Weird MC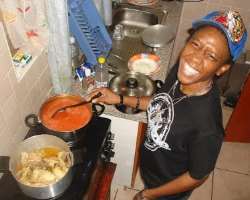 Weird MC is an artiste that has been in the game of music in Nigeria for a long time. Her hit single 'Allen Avenue' of the 90's shot her into limelight. Not many who listened to that song then may ever envisage that she would still be talked about in 2013 because most of her contemporaries have gone oblivion.
After her 'Ijo Ya' hit single in mid 2000, it has been a battle for Weird MC to headline some Nigeria's biggest shows again.
As it is being rumoured, the artiste has clocked well over 30 but she has remained single.
In an interview with HipHop World recently, Weird MC reportedly said she has no plan of marriage in her mind for now. She was quoted to have said that her album release is paramount to her not marriage.
Hear her, "I don't have time for that (marriage). It's not even in my plans. Right now, I've got an album coming out, so that's not in my plans."