Born To Rule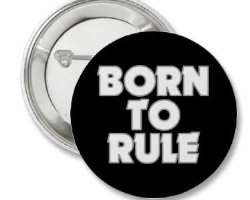 By: Musa Izelakhu Aliyu
[email protected]
Born to rule! Just Google it, you will be amazed at the flood of information and write-ups you will find. This statement has far reaching meanings and deductions. How true they are is subject to where you stand, what you believe and your level of openness. We must be mindful of our present realities and the likely future consequences of our actions and inactions derived from the gains of providence. We have thrown caution to the wind in the 'battle of we against them'. To assuage your thoughts, caution is never the same thing as fear. The only difference between us and them (if it exists) is what we have become within the last three years - our right to rule. There is no thin line between the two, in fact the later is worse and very evident in the open division that exist among us - North Vs South, Christians Vs Muslims, etc. Only those who believe in ghosts but devout 56% of our budget for security issues will deny the fact of our division within the Nigerian union.
The phrase 'born to rule' has become very prominent in use within the last three years in Nigeria. It is a cliché in the lips and hearts of most Nigerians; especially Southern Nigerians. When one read blogs, articles, books, comments to the aforementioned, etc, the phrase comes alive. More so in a manner that would make one wonder how long have they felt this way? How long will they continue to aver on this phrase? When will the joy of rubbing it on the face of others come to an end? How many more bridges do we need to burn before we realize we are our own enemies? You know the answers and as you continue reading you may find more answers.
The message and ideal gloriously peddled, sowed and nourished in our hearts through this 'lie foretold phrase - born to rule' has ruined our very good nature as a people. We no longer realize our differences and accept them for our common good, we out rightly reject good for evil so long as it is a denial of the 'born to rule' even if we are impoverished as a result, we see ourselves as superior and civilized beings, our rights and no others', etc. The dearth of our educated and intellectual army of youths holding on to this matter of no importance is even more worrisome when you consider the real import of youth being the leaders of tomorrow.
One would wonder and ask what prospects have we as a people and as a nation if we spiral along this path? Thirty to fifty years from now.
Let us bring this matter in perspective. Let us assume that the North is monolithic in all parameters (as most of us will hardly remember or know that this is not true). The born to rule mentality ascribed to our Northern brothers stems mainly from the 'fact' that they have ruled us for thirty-eight years! And that their attitude and body language suggest that they should always be ones on the driving seat is a mare individual perception and deduction with a view to hide our failings as Southerners.
If this period of thirty-eight years of life in wilderness is true, would you care to ask yourselves how many of those leaders who held sway over those periods you all elected into office? If we hate them so much for plotting those coups would you ask yourselves who made the first coup in Nigeria? Would you ask yourselves what role our brothers played over these period? Would you ask yourselves what our southern brothers in the armed forces were doing? Fortune 'they' say favours the bold.
Like yesterday, like today, we all love life so much! If anything at all, we should blame ourselves! If you are out there and still keep telling your kids and anyone that listens that the North has ruled us for too long, do not fail to tell too that you did not elect them for the period you cry wolf over. Do not fail to tell how much of a sleeping lion you have been – have you woken up? If you as a Southerner feel that the North has delayed our progress as a nation, ask yourselves if you were forced to wait for them when they said they were not ready. If they are Jihadist as you now claim, ask yourselves why you left a Jeremiah for a Balewa in forming a government? Tribal and sectional greed have always been the case and it is very obvious now than before.
Yesterday's dispensation; today's dispensation; voices never heard before are deafening us. Ijaws (alas South South), South East need to ponder real hard on how to keep this new found voice beyond this time and into the future. Least we ostracize ourselves by ourselves through the gains 'providence' has conferred on us.
Now that we have had more years in this 'fourth republic' so far, can one truly say we (Southerners) have exhibited a wholesome better and different attitude and approach to things? I had like to rephrase this question to drive home my point. Have we the minority (South South this time) really exhibited a wholesome better and different attitude and approach to things? I dare say NO! Our stewardship so far has been worse off. The economy is growing on paper while in reality the common denominators known to my uneducated grandmother are moving up.
Please do not loss your cool just yet as we need to take a little journey to the illustrious home of the South/South people of Nigeria. This is not about the vices you already know of but the anticlimax of a people whose only incentive for being upright, law abiding, hardworking, etc, is to be paupers and living witness to the growth and enrichment of criminals and outlaws of the society. Billionaires and millionaires have been made out of criminals openly to the dismay of all. Gun touting youths earn salaries and scholarships to study while millions of graduates earn nothing. It has never happened so brazenly in the history of this nation as it is now.
After all the head does not give a damn about what anybody thinks.
Granting of amnesty was criminal on the part of the government. It was a ploy to settle the boys for the continuous flow of the black gold. In case you don't know, the boys are richer while the environmental and infrastructural woes of the region escalate by the day. If you are still in doubt, check the bank accounts of the Tompolos, Asaris, Daizanis, etc.
A far more reaching effect of our stewardship is the value and moral dearth created within the fabric of our educated society. On social networks and real life events, 'educated' people hold positions over issues that makes one wonder if they deserve the certificates they hold!
Beside academic prowess, one is said to be worthy in character to be qualified and hold a certificate, is this still the case? People like Deri, Sapele water, Guy-man Pastor, Theophilus, Omololu and a host of others comes to mind! The undiscerning drive for money and riches shows how much we have lost it; it shows how much danger lies ahead for the "generationext".
We are our own enemy. We hear it every day now that the Ijaws are the fourth largest tribe in Nigeria. Has it been a matter of debate? On the flip side of this, can this population guarantee a presidential seat in Aso Rock?
We should be asking ourselves what the future holds after this present honeymoon that makes Asari, Oritsejafor, Clark, etc so drunk and loud that they must burn every bridge ever built, and as if they will never need to go uptown in the future. These men of poor vision chose to abandon the key - true federalism- that would have guaranteed a better and safer future for all. If a minority president chose not to make the pursuit and realization of fiscal federalism one of his key trust program, then who will do it?
The power to bring about the change we need is in our hands. If it will take an 'idol worshiper' and an 'enemy' to bring about the change we need why reject it on the altar of his or her affiliation? If this does not make sense to you, think of Edo state; where an outsider has accomplished that which a son of the soil failed to dream let alone execute. We must take back our thinking caps from these 'men of God' who thrives on our fears, we must rationalize every bit of media information (majority of them are for their pockets), we must be able to forecast tomorrow's man from yesterday's man, etc, if we are to take back our common wealth from these collective few whose intent is to pauperize us till eternity.
Disclaimer:

"The views/contents expressed in this article are the sole responsibility of the author(s) and do not necessarily reflect those of The Nigerian Voice. The Nigerian Voice will not be responsible or liable for any inaccurate or incorrect statements contained in this article."