A WORD FOR JONATHAN AND AVIATION MINISTER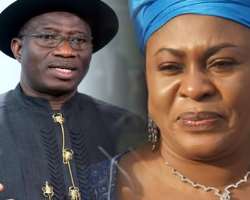 Some ominous sign is already in evidence that President Goodluck Jonathan is gradually transforming into a full-blown dictator. Since he took office four years ago, no one - including the President himself - can say whether he has a blue print to lead the nation, apart from hunting for political enemies. He did it to James Ibori, Timipre Sylva and now, Governor Rotimi Amaechi.
His Minister of Aviation, Stella Oduah has demonstrated that with bare-faced impunity. She has overtly engaged the Rivers State Governor, Rotimi Amaechi in a proxy warfare; dramatising the most heinous breach of public morality on behalf of Mr. President, thereby blunting the edges of official conduct and civility. No one can deny the fact that the minister is on errand for the President. Aviation and the state are synonymous. The aviation is Federal Government and Federal is President Goodluck Jonathan.
Since her assumption office the aviation industry has suffered collateral damage of equal indifference. Apart from minimal renovation which is a far cry from the minimum standard acceptable any where in the world, the Minister has visited untoward tardiness on the tawdry industry which ought to be the nation's signpost for excellence. One aviation correspondent spoke of her obstructive dominance as the sole reason holistic reformation can never be allowed in the industry as long as she presides over the corruption plagued ministry.
If the "Transformation" sloganeering is possible with the minister of aviation why is it that no Nigerian airport was listed among the best in Africa in the 2013 Skytrax World Best Airport Awards held at Passenger Terminal EXPO, Geneva, Switzerland? To be rated, airports must be top notch in the areas of safety and security, friendliness, passenger facilitation, functionality, among other criteria which virtually all Nigerian airports lack.
South African airports dominated the top 10 ranking in Africa, with Cape Town International Airport emerging the Best Airport in Africa, followed by Durban King Shaka International Airport and Johannesburg (Tambo) International Airport in 2nd and 3rd places respectively. This year's awards, voted by airport customers from around the world, garnered 12.1 million responses.
Egypt's Cairo International Airport was ranked 4th while the 5th position went to Mauritius International Airport. East London Airport, South Africa, was placed in the 6th position; Addis Ababa Bole International Airport in Ethiopia, 7th; and Port Elizabeth Airport, South Africa in 8th position. Morocco's Marrakech Menara International Airport and Seychelles International Airport ranked 9th and 10th respectively.
South Africa also made a clean sweep of the Best Airport Staff category with Cape Town International Airport, Durban King Shaka International Airport, Johannesburg International Airport, East London Airport, and Port Elizabeth Airport occupying all the five positions. So, where is the Nigerian Aviation's reform?
Addressing the House of Representatives Joint Committee of Aviation and Justice a few days ago, Stella told the committee that Rivers State Governor has ran foul of the Aviation laws and threatened him with the EFFC and ICPC for operating illegally and violating some Sections of the Nigerian Civil Aviation Authority (NCAA) laws, including - 1.2.5 (a)(i)(2), 1.3.3, 4.2.1.1 (a), 4.3..1.2(a) and (b), and 8.6.1.1 - as if the Rivers State aircraft imbroglio is responsible for the poor rating of the Nigerian Aviation industry under her watch.
But she buckled when the Joint Chairman of the hearing and Chairman of Justice Committee, Ali Ahmed quoted copiously from relevant Sections of the NCAA Acts, especially Section 35 which forbids any form of sanction until due notification by writing to aircraft owners was done. Attempt to lie through Caverton Helicopters that the Rivers State Governor has been "operating without valid airworthiness or legal certificate aircraft registered in the name of Bank of Uttah Trustees, but used/operated in the name of Caverton Helicopters" backfired. The Rivers State Government presented a letter before the committee on the revenue collected by NAMA on April 26 which indicated payment of $ 389 to the Federal Government by the Rivers State Government for the usage of aviation facilities.
The Invoice, Voucher and the amount covers Terminal Charge and processing Fee, issued in the name of Jet N565RS operated by Global Express for Rivers State Government. In the same token the minister feigns ignorance of the fact that aviation authority ever knew that the Bombardier jet in question has been carrying Coat of Arms of Rivers!
Aviation minister has been unable to prove the righteousness of her cause in this matters. Nigerians cannot be deceived as to where the body and soul of the minister reside. It is pure cunning power play that slough off failure. She has refused to dedicate herself to the revitalisation and rebranding of the aviation industry so as to take out the trash. We are only seeing a paragon of mediocrity in the saddle where incompetence and failure perfectly converge to neutralise the nation's aspiration for aviation sanity.
Conversely, Stella Oduah is craving for clout. By so doing, she has demonstrated the filthiness of her exalted office to a ridiculous extent and debased it for political partisan infighters. She is pushing through crass reform - on behalf of President Goodluck Jonathan - which forbids private jet owners from giving ride to friends or associates. It is a dangerous way to hands off the airspace dominance to a President as he looks down hills for reelection in 2015. By the present aviation reform, President Jonathan alone will be legally permitted to fly over the nation's airspace with more than 10 Presidential Aircrafts for his presidential campaigns while other presidential aspirants of other political parties will make do with tuketuke. How offensive can this be in a supposedly democratic society?
The unfolding senecio should not surprise the followers of the abhorrent attitude or draconian measure of President Goodluck Jonathan's administration. From the outset of his presidency, even on the campaign turf in 2011, where he was shuffling pieces of papers as his manifesto, he persuaded Nigerians to look out for nothing - "Transformation Agenda" - no pledge made, no pledge broken!
The vagueness of that episode, I am certain, is not lost on Nigerians to date. A nebulous "Transformation Agenda" that promises virtual deception to over 200 million citizens can not translate to good governance over night, including the thorough overhauling of the aviation industry. On that occasion, Nigerians were treated to empty and subversive sophistry devoid of issues, substance and steam.
For all the President's rhetoric on "Transformation Agenda", the reality is it is just a fig leaf for conscious power grab. Those who disagree with me earlier that good governance depends solely on the character as well as the mental and spiritual orientation of those in power may now have to think twice. President Jonathan may continue to pursue his oppressive tendencies with fidelity for all he cares. Nigerians are never known, as a people, to permanently attuned to oppression and tyranny without asserting their freedom.
Again, that is part of the problem. Because of the subtlety and numbness with which Mr. President is chasing his perceived enemies, only a few discerning minds would agree that he is a despot. But it will not escape majority of Nigerians though, that they have a real brute as their president. Dictators of all hue begin just the same way the meekly Jonathan strides with consistent vindictiveness, crude politics and obvious opportunism. One can only locate all of this on poor judgment. The truth is that we do not have a president in Aso Rock. He is merely a weathervane.
Nigeria, like any other country under the york of dictatorial dereliction, will certainly overcome the appurtenances and deception masquerading as leadership. It happened in the perilous days of President Ibrahim Babangida; we saw the exhibition of raw and murderous power in the ruinous years of the triple "D", diminutive demented dictator, General Sanni Abacha, we bemoan and stampeded the repellant administration of President Olusegun Obasanjo and his Third Term Agenda, TTA. We celebrated their vanity and fickleness in power in grand style such that will forbid intending dictators to recoil to self-consciousness and vigilance, that someday, they too will have their days in the hall of infamy.
But President Jonathan, even though he is a former university teacher is not one person who can learn from history. He is a student of cruel and autocratic power. He learned of power to hunt, maim and to kill! I am not sure he knows the worth of power, especially the one flowing from the ballot box of the electorate who will determine his continues tenancy in Aso Rock beyond 2015. He seems to know only of power in absolute form: brandishing it like the Sword of Damocles, aggressing violently against perceived political opponents and vaunting vehemently like an emperor.
In this trying times, Nigerians cannot afford an absolute dictator who is driven by unrestrained ambition and propensity to breaching the laws and constitution he sworn to upheld; using extreme and cruel tactics to subdue his own people. Putting power into wrongful use amounts to weakness on the part of the despot.
It tells how worthless power can be when it is shredded like the pieces of paper Mr. President called manifesto while on the soap box for his presidential race in 2011. President Jonathan may still grasp the essential cause with a chance to help the nation to shape the new future.
Written By Erasmus Ikhide


Disclaimer:

"The views/contents expressed in this article are the sole responsibility of the author(s) and do not necessarily reflect those of The Nigerian Voice. The Nigerian Voice will not be responsible or liable for any inaccurate or incorrect statements contained in this article."
Articles by thewillnigeria.com