P-Square Star's Paternity Dispute: "London Baby" His First Child, Says Family Source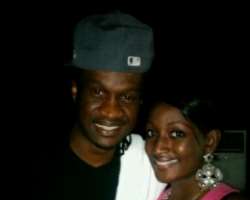 The paternity controversy between Nigerian music star and entertainer, P-2 (real name Paul Okoye), and a beauty pageant contestant and model, Elshamah Igbanoi, has taken a new twist. SaharaReporters first broke the news that Ms. Elshamah was stuck in London over unpaid maternity bills after giving birth to a baby boy she said was fathered by Paul.
A close relative of Mr. Okoye's has contacted SaharaReporters and asserted that the baby born by Ms. Elshamah Igbanoi, a former Miss Plateau State, is in fact the musician-entertainer's first child. A few weeks ago, P-Square had thrown a party in Atlanta, Georgia to welcome another baby born by a different lover of his.
Our initial report about the musician's paternity dispute with the former Miss Plateau went viral. However, Mr. Paul Okoye has kept mum, even though some blogs reported that his public relations claimed that the paternity report was a "hoax" and even an "April Fools' joke."
A family source close to Mr. Okoye, known as "P-2" in the hip-hop musical duo P-Square, said the music artist was aware of Ms. Igbanoi's pregnancy for him about the same time another lady, Anita, became pregnant for him. The source disclosed that the baby born in London is in fact Mr. Okoye's first son, since he was born on April 7, 2013, three days before Anita delivered another baby in Atlanta on April 10, 2013.