2015: House Okays Tambuwal's Presidential Bid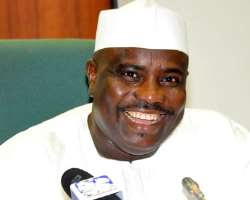 SPEAKER, HOUSE OF REPS, AMINU TAMBUWAL
ABUJA, May 05, (THEWILL) – As the permutations for the 2015 presidency continue, the House of Representatives at the weekend shored up support for the rumoured presidential ambition of the Speaker, Aminu Tambuwal, saying he has what it takes to lead the country.
Deputy chairman of the House Committee on Media and Public Affairs, Hon. Victor Ogene, who dropped this hint while briefing members of the House press corps noted that Tambuwal had proved to be a transparent and dynamic leader as Speaker of the House in the last two years therefore he could take a shot at the highest office in the land.
He said apart from his exemplary leadership style as Speaker, Tambuwal has other numerous credentials that qualify him to vie for the post.
According to him, "As it stands today, Tambuwal has displayed good leadership in the House of Reps, it is only left for Nigerians to determine who will lead them in 2015. Though he has not told us about this, but leadership is done by the people."
Ogene could not however say under which political party the speaker would seek to contest but insisted that he has every right to vie for the presidency should he decide to do so.
On whether the Speaker's hobnobbing with the opposition parties was part his strategies for the presidential bid, Ogene said "Tambuwal is not a PDP Speaker, he is the Speaker of the House of Reps. He can relate with any party in the best interest of Nigerians."
On the protracted disagreement between the House and the Presidency over Ms. Arunma Oteh's continued stay as Director General of the Security and Exchange Commission, SEC, the lawmaker said, " The House has not shifted ground on Oteh. Whatever happens now in SEC that is contrary to position of the House is in breach of the law.
"At the appropriate time, whenever it is discovered that funds are still made available to SEC, we shall take action. The Appropriation Act cannot be breached; it is one of the most important Acts in any democracy. Action will be taken against whoever person is found responsible."