House Asks FG To Build Perimeter Fence Across Boundaries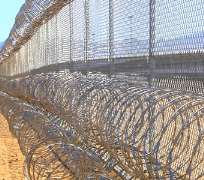 ABUJA, April 25, (THEWILL) – The House of Representatives, Thursday, called on the Federal Government to construct perimeter fence to demarcate the nation's boundaries with neighbouring countries so as to forestall the influx of aliens into the country.
The House also wants the demarcated boundaries to be equipped with sensors and cameras as well as provide better working conditions and incentives for those posted to the borders to enable them help check illegal entry.
This decision was taken following the unanimous adoption of a motion sponsored by Hon. Hassan Saleh (PDP, Benue) on the urgent need to investigate the indiscriminate influx of foreigners into the country through the borders.
Presenting the motion, Saleh noted that most Nigerian land border posts were not water-tight in spite of the importance expected to be attached to front borderline to ensure security, economic and social well being of the country and its citizens.
"It is disheartening to note that our borders with our neighbours remain poorly and inefficiently managed," he said, adding " at some of our borders, there are no flags, gates or any form of proper demarcation, rather what has been observed at some border posts such as Seme and Idi-Iroko are demarcations made of bamboo trunks".
The lawmaker said apart from the porousity of the borders, it has been alleged that there exists 1, 497 illegal routes into the country , adding that most our villages, towns and cities are filled with illegal immigrants who go about without any fear of being questioned about the legality of their stay in the country.
He noted that Nigeria's borders with other countries stretch through 3,140 square kilometres running from Malaville, north of Republic of Benin stretching through Kebbi State, Sokoto, Katsina, Jigawa, Yobe, Borno States down to Mfun in Cross River State that has a boundary with Cameroun.
He argued that the rising tide of insecurity in the country today is the direct fallout of the porousity of our borders coupled with the lack of effective manpower, inadequate logistics and lack of conducive working conditions for those charged with the responsibility of manning our border posts.
Nigeria's neighbours, Benin Republic, has a boundary stretching 773 kilometres in the South-west; Niger Republic, 1500 kilometres in the North-west; Chad, 87 kilometers in the North-east and Cameroun, 1,680 kilometers from the North-east to the South-south.